Disclaimer: I had a good time at this race.  If you're looking for another bitter, Competitor-bashing, rage against Rock 'n' Roll Las Vegas, you won't find it here.  Yes, things went wrong, and I have my critiques, as I do of any event, but overall it was very well run and I had a great time.  Sorry.
And Warning: This rambling is extra rambly for some reason.  You may want to grab a snack if you're going to read it all in one sitting.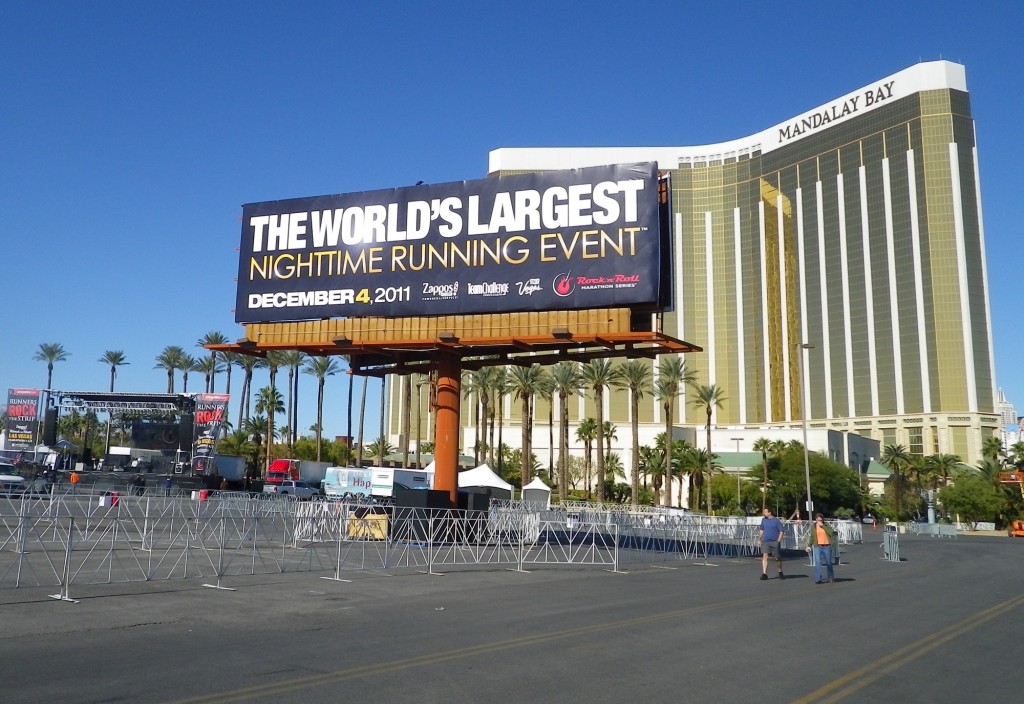 The Strip At Night
I've known for quite a while that I'm a Country Mouse.  Despite growing up in New Jersey and seeing trips to New York City as a typical weekend activity as a teenager, I chose to attend a fairly small college in Pennsylvania over any of the big city options I looked at1.  When the company I worked for closed down its New Hampshire office and offered most of us a relocation package for Philadelphia, I opted to take the severance2.  And by the time I'd done four marathons3 (and a couple of dozen shorter races), I was quite certain that I preferred the small (but well run) race with a field of a few hundred over a huge urban mobscene with several thousand of my closest friends.
All that aside, I've never been one to categorically rule out a race because of its size.  I like races that let you run somewhere you might not otherwise be allowed4 or have some other sort of hook, but I'm willing to give just about anything a try.  Yet I've been eschewing Competitor events for the past few years.  I'd always thought the Vegas Marathon might be fun, but they became the Rock 'n' Roll brand right after I started running, and I was turned off by that.
At the time, my opposition was based solely upon having done other events with music as a matter of fact, but Competitor/Elite was positioning Rock 'n' Roll as some sort of unique and different experience that was somehow better than all the others.  The idea that they were homogenizing marathons hadn't even crossed my mind.
Call it McMarathon or Wal*Race; whatever the catchphrase, it's a big brand, a big race, a big price tag, and definitely a big weekend.  But this summer when they announced that they were moving it to a night time race, I figured it's high time to give them the benefit of the doubt and try a Rock 'n' Roll event.
And that's how this little Country Mouse5 ended up registered for the third largest race in the country.  It's not like I haven't been to Vegas before.  It's not even like I haven't run the strip before.  I just haven't run down the middle of the road6 with an estimated 43,999 other people and countless drunks cheering me on.
The drunks in Vegas are usually looking at me with confusion and a measured degree of concern as to whether they should dive for cover or just stand perfectly still until I'm past.
Marathon, Inc
In other words, I was expecting a very crowded, very corporate race.
And I got a fairly well run, very very crowded, fairly corporate race.
Honestly; with all the complaints I've seen thrown about, I am a little surprised.  I'd chalk it up to people who unfortunately registered for a race of this size as their first event, but I've seen complaints from runners far more experienced than me along the same lines.  There was one big problem: 44,000 people is really pushing the limits of what the five lanes of road on one side of the strip can handle.  There were a few lesser problems, but nothing that I think is honestly any worse than any other large race, and nothing that would probably have been an issue if folks were not already up in arms about the crowds.  Not to diminish the crowd issue, of course.  But we'll get back to that.
First, let's talk Expo.
Expo
Although initial plans were to require everyone to attend the Expo on Friday or Saturday, despite a 4:00 PM start time, they did add a race-day packet pickup7  We're only 90 minutes away in Mesquite right now, but we had already booked rooms8 and planned on making a weekend of it, including at least some of the parties that are thrown in for the Vegas edition of Rock 'n' Roll's higher entry fee.
Competitor was pretty blunt in the race info that the Expo would be insanely crowded, encouraging people to come Friday if they could, and if not to be as early as possible on Saturday for packet pickup.  We opted for the first thing Saturday plan, fully expecting to be in a huge crowd if we stuck around too long.  We whipped through packet pickup pretty easily – the layout was crowded but lines moved quickly with everything pre-stuffed and sequenced by bib number and a separate area for fixing any problems with your registration info, including swapping starting corrals if necessary.
This is the first race I've done where I've actually crossed paths with Brooks' Cavalcade of Curiosities, which was kind of fun, and I took a few minutes to try out a couple of the new(ish) Pure Project line, but otherwise it was a whole lot of the same ol' same ol'.  We got out of there in about 45 minutes and there were already lines out the door to get to the packet pickup.  The expo could certainly have been laid out better for ease of traffic flow, but they did a pretty decent job with the size of the expo hall they had.  After all, they were sharing the convention center – and all of Las Vegas – with the National Rodeo Championships.  Which made for an interesting cross section of people roaming the strip.
Fast forward about 27 hours as we made our way down to the start line on Sunday.
Pre-Race
My wife had a little pain in her hip flexor, so rather than risk a pre-race injury, we shelled out $10 for the Monorail.  Fully expecting a Japanese subway type situation, we were pleasantly surprised to be joining about six other runners, three or four folks on their way to work, a handful of Rodeo fans, and a highly amused woman who had just arrived for a tech conference this week and discovered a town full of aforementioned the runners and Rodeo fans9.  We got to the start line as recommended with plenty of time to spare, so we squandered this time on using the fancy flushing toilets in the casino before I shuffled off to the start corral.
Supposedly, there's a big ol' pre-race concert, but Vegas got Cheap Trick and some runner up from American Idol, so we skipped that show.  Turns out Miami gets local superstar Pitbull next weekend, which is a clever way to make the event location-specifc.  Vegas could have hosted The Killers, Crystal Method, Slaughter, or even Toni Basil.  The night race start does make for a nice way for people who want to enjoy the concert to do so, but I fear many people may have hit the beer tent a few times too many before endeavoring to run 13.1 or 26.2 miles.
The start corrals were supposed to be "enforced" somehow, but nobody was checking bibs.  Fortunately, this didn't seem to be a big issue with the 4000 or so of us running the marathon – I actually had much more elbow room waiting for the start than I have in much smaller races.  However, rumor has it that things didn't go as smoothly with the 40,000 people lining up for the half.  Both, however, were far more intelligent and successful than Nike's misguided attempts at starting 22,000 people in San Francisco's Union Square.  At least Competitor distinguished "participants" from "spectators" from "poor guy trying to take his dog for a walk."
So, after interrupting the Macy's parade style start line commentary for the two hits of Cheap Trick10 and a decent rendition of the national anthem, we had a New Year's Eve style countdown to a 4:05 start.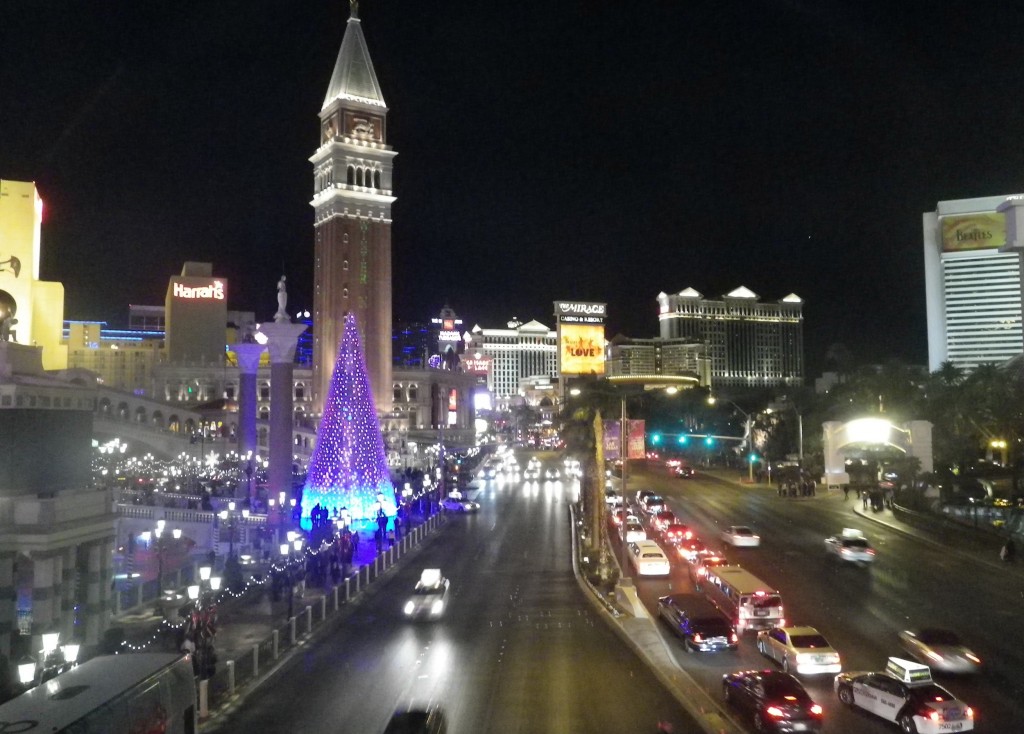 The Course
The first half of the course was through industrial and residential areas west of the south strip.  Everything was well marked, excessively well lit as the sun went down, and exceedingly boring.  The course was clearly published.  I knew it would be boring, and it was.  For some reason I thought we'd pass the Rio and Palms, but that was clearly a "Keath can't remember the map" issue, not a communication issue.
The awesome part about snaking back and forth through the side streets was the number of times the course doubled back on itself to give us glimpses of the leaders cruising down these roads upwards of double our pace.  The gap between the leaders and the pack – wherever you are in the pack – keeps growing, and it gives a new appreciation for their speed and skill to see it that close.
Also awesome were all the bands.  For the most part, they were cover bands, but they were also diverse and all better than Cheap Trick.  The bands seemed to get a little more sparse in the second half, but that was probably just due to the cacophony of cheering on the lower strip proper where the crowds drowned out bands on the far side of the strip.
Just past the half way point we return to the strip and join up with the half marathoners who had started an hour and a half after us.  This is where that aforementioned field size became an issue.  A majority of the lower strip portion of Las Vegas Boulevard has four to six lanes in each direction.  All 44,000 of us headed north on the southbound side, then off to the west where Main Street splits off and around some zigs and zags near Fremont Street, before heading back south on the northbound side.
Miniature traffic cones (the one foot tall kind they sell in the toy aisle) were placed between the leftmost lane and the other three to five lanes indicating that the marathoners should stay to the left and the half marathoners should stay to the right.  Which would be great if people A, noticed the distinction, B, respected the distinction, and C, had room to be where they "ought" to be.
When we first joined up alongside the halfers, it was great.  We were all cheering each other on, waving like we were meeting up with old friends, and so on.  I asked a few folks what pace group they were with to see if I might catch up with or be caught up by my wife11.  Turns out we hit the middle of the 2:00 group.  Friendly folks, those 2:00 half marathoners.
But yes, there were half marathoners in the "full lane."  And while some of them might have been oblivious at first, all but the jerks with their headphones on full blast heard our requests for a singletrack for marathoners.  We tried to be as nice as we could shouting up ahead to ask people to stay to the right, but a lot of times when we looked over, there really wasn't anywhere for them to go.  For the most part it was navigable in our area, but as different areas of the pack are going to have different levels of congestion, I don't doubt any of the horror stories I've heard about people elbowing each other, slipping on discarded water cups, or just tripping on their neighbors.  Both my wife and I were fortunate to be in relatively safe packs of runners and witnessed no atrocities worse than some rear ending of people who come to a complete stop12 to grab their water.  In short, it was crowded, as expected, and perhaps a bit more than expected, but was completely manageable for the majority of people who were decent to their fellow runners.
44,000 people.  That's slightly larger than the 2010 population of Concord, NH.  I can tell you from personal experience that not everybody in Concord is a nice person.  I don't know if there have been any anthropological studies to get an exact number, but in any population there is going to be a certain percentage of douchebags.  It's true in any city or town.  It's true in any workplace, school, or club.  And it's true when 44,000 people are running up and down 0.129 square miles13 of road with reflective lane markers, potholes, walls of spectators, and drought tolerant landscaping.  Some people are going to go with the "me first" attitude and ignore anyone with a different goal than theirs.
In any population, there are also people who are going to find something to be miserable about every experience.  They don't want to have a good time and will find something wrong with their vacation, their spouse, their job, their kids, the way the bagger at the grocery store looked at them, the price of tea in China and how it affects their ability to enjoy whiskey in South Carolina, their interactions with douchebag population, and so on.  I feel sorry for these people, because it makes it that much harder for them to enjoy anything.  And it seems a crowded race course brings out this behavior in more people than normal.
That said . . .
To compound the congestion and challenge for the half marathoners to fit in the space allocated to them, the water stations were distributed across both sides of the road.  Which is good, as, well, no half marathoner wants the marathoners cutting through them to get water any more than the marathoner would want to attempt that.  But that also meant that half the resources were in the "marathon lane."  So of course the half marathoners on the left side of their area are going to cut left for water.  They'd be idiots not to.  They just didn't always move back over – or have room to – after the water station.
When we reached Main Street, things got a little better.  The lower volume of spectators now that we were away from the casinos meant that we could use the sidewalks to spread out a bit more.  We wiggled around the side streets before skirting Fremont Street and heading south.  Once again, I thought we'd be running through Fremont Street Experience, but once again, apparently "Keath can't remember the map."  I don't really understand this decision, as nothing says "Strip at Night" quite as much as the covered street of lights, but maybe organizers knew that the kiosks in the middle of the street wouldn't hold up well to 44,000 people?
On the way back down the strip the Rodeo events had apparently let out, as we saw a lot more cowboy hats and got some quality "yee-haws" in response to asking where our rodeo fans were at.  With all the people that Vegas normally has milling the streets trapped by those who came specifically to spectate, pretty much everyone in Vegas on Sunday was either forced to hide inside or stand and cheer.  From the Wynn onwards the crowds were pretty solid – kind of like the world's longest finish chute.
Unfortunately, I believe this is where people further back in the pack were finding water stations completely out of water.  Yes, there are less than five miles left to go, but the slower you go the longer that takes and the more important it is to get your hydration on.  Since Rock 'n' Roll is for whatever reason very popular with first timers, very few people were running with their own hydration, something I would advise as essential for anyone concerned about hydration and signed up for a big city race.  Even if the running out of water claims were exaggerated, we definitely came across a number of abandoned water stations – plenty of cups stacked up five or six high, but nobody there to pass them out (minor issue) or fill more (more significant issue).  Turns out that volunteers abandoned their posts because they were cold and their hands were wet.  If you can't prepare your volunteers sufficiently and treat them well enough to respect their assignment, you need to scale back your event to the number of volunteers you can handle.  That simple.
The volunteers that didn't bail, in general, were great.  I'm the annoying guy that tries to thank all the volunteers (including the cops helping to secure the course from traffic!) he can to let them know that we appreciate their time and efforts.  Some of the responses I got made me think that the 43,999 other people out there grunted at the volunteers and slapped their babies.  Just thanking someone for their time should require a response of absolute love and adoration.  But that's what I got – from multiple people at multiple water stations.  Seriously.  Thank you all so much, and on behalf of anyone who was rude or inconsiderate to you, I am deeply sorry.  That's totally uncalled for.
My timing worked out perfectly with the Bellagio fountain this time by; just as I was wondering where the "Singing In The Rain" opening bars were coming from the fountain exploded up in the air however many ridiculous stories it does, which was pretty spectacular to see at mile 24; I dare say moreso than when simply touring Vegas bars and swinging by to watch them.  My wife's timing worked out similarly with the Mirage "volcano" explosion.  It's the little things like this that made the race unique to Vegas and different than just running around a city.
Then, before you know it, bam, there's the Statue of Liberty, you're crossing Tropicana Ave, and the vague concept of a finish line is in sight.  You know it's there, because that's where you started, right?  And if you cross Russell Ave, there'll be cars, so there ought to be a finish line somewhere.  Ah, right!  Avert your eyes from the giant Carrot Top ad!  Look beyond the Luxor light pollution beam of doom!  There!  On the Mandalay Bay video ad screen . . . thing!  It's people crossing the finish line!  It's got to be reasonably close by!  There's no mile 26 marker, but damn it, I see a right turn in to the parking lot up ahead!  Oh, crap!  Cheap Trick is on the video screen now!  They want me to want them!  Noooooooo!  A left turn, a huge "Welcome to Finisher Village" billboard, and, yes, dare I say it?  I think that's the finish line!
I still can't get "I Want You To Want Me" out of my head.  Somebody may have to put me down like a lame horse.
Post-Race
Wow.  We had strolled through the finisher village earlier in the day en route to/from Marathon Maniac / Half Fanatic photo meetup at the"Welcome to Fabulous Las Vegas sign.  It was very well laid out, included a multitude of porta-potties, easy access to the part of the Convention Center that served as bag check, and yes, they leased the billboard that sits in the middle of the lot as a "welcome" sign.  Pretty large scale.
In hindsight, it would have been good to make the post-finish line corral a bit wider.  Neither my wife nor I had any problem getting through, but with volume coming through the half side of things, there were backups at the finisher photo booths despite a bypass lane.  Which I understand, as a race like this, which is very inclusive of  walkers and slower runners14, likely brings in a lot of people who are doing their first, and possibly only, race, and many folks of that nature want to make sure they get their finisher photo (or don't know they can skip it).  Despite huge, blinding, floodlights all over the strip, there were no photographers save for the start/finish line, so if you're a must-get-a-photo person, the posed finish coral photo is your best bet.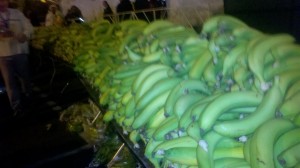 Beyond the photos (or bypass) was a wide array of treats.  No chocolate milk (or even Muscle Milk, which the CytoSport folks at the expo made sure to let people know), which I've grown to enjoy, but not expect, but plenty or recovery goodness.  Sponsors Snickers and CytoSport had their prominence, of course, with the new version of Marathon Bars and Cytomax, respectively, but there were also huge piles of bagels, pretzels, GoGurt15, and bananas.  Lots of bananas.  Even the Harry Chapin song that got stuck in my head at that point couldn't kill the Cheap Trick.
At the end of the snacks was an automated recording informing us that we were "leaving the secure area," directing everyone to wherever they may need to go (in short, right for family meet-ups, straight for beer or info, and left for bag check), and reminding spectators to let people through.  I'm pretty sure that there's a solid half mile or more between the finish line and the end of the "secure area," but it's worth it.  They spread the food out fairly well – I don't know if there were tables on the far side from where I was, but I hope so.  If not, that's a simple improvement that could be made.  But overall, they could have done with a little less open space outside the secure area and a little more bandwidth for the crowd to get through.  Maybe double up on the tables down a center lane so there's more "threads" of people and less attempts at converging on a single point?
Either way, considering the massive number of people, I think things went very smoothly.  It took my wife and I a while to find each other, despite me being able to watch her finish, as I was outside the secure zone and lost sight of her in the shuffle.  The sheer number of people in one area trying to use their cell phones must have overloaded the towers, as I couldn't get any texts to send and recieved hers after a long delay.  It took a dozen tries to get a phone call to go through!  But get together we did, and just in time to use the restrooms and catch one of the last few shuttles.  It was so cold out we skipped the cold beer and set our minds instead on finding a bar with a hot toddy!
My Constructive Criticism, Itemized
So I've rambled a bit, but I still contend that for the most part, things went well.  You can't get 44,000 people together in to such a small space and expect perfection, but frankly, they did very well.  There were mistakes made, and I'd like to think they will address them.  But the biggest thing is the size of the field.  They need to lower the cap for the half from 40,000 to 30 or 35,000.  And definitely not raise it.  They may want to be the biggest race in the country, but while the city can handle it, the route can't handle it.  Things could be improved by separating the full and half to separate days – or ditching the full completely – in all honesty, the strip as most people picture it is three miles long, which can make for a fun 10k, and if you actually include Fremont Street Experience then it's worth the half marathon distance up to the north strip, but making a full is just adding boring miles.  If you can't design an interesting course, leave it as a half and let someone else come up with a full.  But even as a half only, there either needs to be greater control and separation between corrals – a proper wave start – or a lower headcount.  Not a higher headcount.
According to the results, only 36,889 people finished – 3766 in the full and 33123 in the half.  I don't know if the 44,000 number that I've been thrown about is hearsay, a press release number, or if there were really over 7000 people who DNFed or DNSed.  If they DNSed, then 36k is already too big.  If they DNFed, then, wow, that seems like a lot, but probably proportionally no different than any other event.
Other, comparatively minor issues;
Respect the bands!  I don't understand how an event that bills itself as being all about the "Rock 'n' Roll" can completely ignore the bands.  I love live music, and I've come to enjoy the random cross section of music on a race course.  And I really enjoyed most of the bands16 on this course – even though most were playing covers.  But it's like they're an afterthought.  Four of them got mention in the magazine, but with no reference to which band was at which stage, and the others remain anonymous.  I've got mad respect for a few of them – it was great to hear a Social D cover where Main and LV Boulevard came back together and whatever band was playing the slasher metal should be hired for mile 20 of every marathon – but I've got no idea who they are!  Austin17 not only itemized who was at each stop, but distributed CDs with most of the bands represented, plus a few other locals to fill out the collection.  Eugene had a full list of who was playing where on their web site and sent out an e-mail after the race to let us know about last minute changes so we could learn more about the bands we liked.  Rock 'n' Roll might as well just hire a house band and take them to every city if they're not going to let us know who's playing where.
Don't run out of shirts.  I don't know how this could happen, but if it's true, it's ridiculous.  Competitor runs a strict ship; no refunds, no bib transfers, and you get the shirt size you registered for.  They had a finish line exchange booth, but at the expo volunteers were following the company line and distributing what was registered for.  Which should work – especially in an event that has been sold out for weeks.  There's no need to guess what you might need.  They should have known.  It's the lower-key events where volunteers are trying to be helpful and giving people different sizes than they asked for where things get sloppy.  But to completely run out?  That's ridiculous.  IF it's true.
Don't run out of medals.  Same deal.  If the race is sold out, how do you not have enough medals for everyone who's registered?  I don't get it.  I'm pretty sure the cutoff for swapping race distances was weeks ago.  I'd like to assume they'll ship people the right medal, but I don't know what's happening there.  They apparently knew they were short when they received the order from the manufacturer, so I don't know why with all the other great communications they sent out they couldn't alert runners (or at least finish line volunteers) to this fact and create some sort of voucher system to ensure people got their medals after the fact.
Enforce the corrals.  Don't bother assigning corrals if you're going to let people start where ever they want.  It's bad enough that people misjudge or outright lie about their estimated finish time.  Don't compound it by allowing last minute OMG-I-must-run-with-you shenanigans.
Run the shuttles later.  With a 4.5 hour cutoff for the half, and it taking the midpackers half an hour to hit the start line, that's bringing the back of the pack in at 10:30 PM at the earliest.  Plus the time it will take them to clear the finish chute, get their check bag, and get to the right shuttle.  Stopping the shuttles at 10:30 kind of just a slap in the face to those folks you're trying to include.  Yes, there's plenty of other ways to get back to your hotel, but there's also a few thousand other people heading in the same direction.
That's about it.  Mostly, DON'T GROW THE EVENT.
Lucky Number 13
As luck would have it, Vegas worked out to be the 13th marathon I've run since I started running in 2007.  And it would be my second fastest ever.  In fact, my second fastest in the last fourteen days.  Neat.
Even though we'd skipped the pre-race party on Saturday night, we did hit quite a few bars between lunch and dinner, taking advantage of the 2-for-1 coupons we got in our registration pile-o-fliers.  This gave me a fairly dehydrated start to Sunday, which I don't think I was fully able to compensate for before race time.  I carried a water bottle with me to be on the safe side and headed off for infamy.
This is the first race I've run in quite a while that has had pace groups, so I figured I'd join up.  I was a bit worried about the solo pace group leader – I've always felt that pairs are a better bet – but fortunately, my pace group leader was Terry, who was personable and pretty dead on pace.  Rather than attempt a repeat of my "push too hard for 13 miles, then hope not to slow down too much" strategy from Mesquite, I was able to stick with the 3:20 group to keep from going out too fast.
And for half the race, I was able to stick with Terry and maintain an even-paced version of the pace that was previously my PR.  When we hit the strip, Terry did his best to maintain the pace he was tasked with, but a bunch of us got stuck a short ways back and had to pace at a distance.  We were able to keep an eye on the pace sign about 20 yards ahead of us despite not being able to catch up with him.  I did pretty well keeping up for most of that second half, but in the last 5k I had to fall back from our secondary group as my legs reminded me that I ran two marathons two weeks earlier and didn't get a real recovery period.  The booze induced dehydration probably didn't help either.
The boost from the aforementioned Bellagio fountains helped a bit, but not quite enough.  I felt like I was pushing as hard as I could, but I was going the pace of the 2:00 half marathoners around me by the end.  Still, the fact that they were moving forward kept me moving forward, and I did all I could to keep from taking a walk break that close to the end.  The crowd only got louder and more excited the further south we got, and the woman with the sign "Don't stop!  There are people watching!" certainly helped keep me going, but I was more winded at this finish line than I've been in a while.
After stopping my GPS, getting my medal, and wrapping up in a space blanket, I plopped down on the side of the chute next to another guy in the same approximate state to catch my breath.  Eventually, thirst got the better of me, so I pried myself up, bypassed the photo line, and filled my Buff with tasty goodness to inhale while watching for my wife.
Official finish time:
Not bad!  Despite very inappropriate rest and preparation, only 6:15 slower than my PR.  I might just be able to PR again next year with the right preparation and course.  All in all, a great time was had!  I gave them the benefit of the doubt, and though there were some surprises I'm glad I did.  I'm not sure it was enjoyable enough to sign up for tons of their events, but I'm contemplating the Arizona edition in January for the Desert Double Down.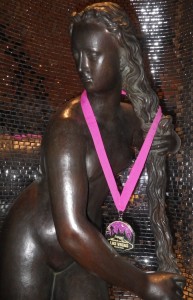 We had fully intended to go out to the after-parties once we'd gotten a quick shower, but by the time my wife and I found each other and made it to the shuttle it was clear that we'd miss out on the open bar.  We still figured the free entry and drink tickets would be fun, but after an ice bath and shower we both collapsed.  Damn, we're old.  Okay, we sat there on our computers for a bit, checking results online.  Which, frankly, impressed me; while my wife was there, I was not.  I knew my chip had worked, because I signed up for the runner tracking and my parents on the east coast got text messages whenever I crossed a timing mat.  This was a pretty cool feature, even if it did cost a few bucks extra, as for the first time ever my parents were able to actually follow my progress and congratulate me immediately, rather than ask about it the next day when I'm exhausted.  Anyway, the point: I was missing from the results, filled out their online "issue with results" form, and went to bed.  The next day, about 12 hours after I filed the report, I had an e-mail with my results and everything looked juicy online.  Snazzy.
Vegas is definitely a pricy race: the half is even more expensive than the Rose Bowl Half which I was flabbergasted by the price of, yet somehow we convinced ourselves to give it a go.  Other R'n'R events are more in reasonable and in line with other events of the size.  I'm certainly still a Country Mouse and prefer me the small races (and small fields where I can place in my age group!), but I'm resolved to blow a bunch of money running NYC18 next November, so I'm thinking at least one more crowded race would be good prep.  Maybe a Rock 'n' Roll event.  Maybe not.
But it's fun.  The inclusive atmosphere breeds a party atmosphere.  I don't understand why they're so popular, but having that many people, mostly people there to have a good time, creates a good time.  Yes, this can happen in any race of a good size, but they somehow foster the idea of a running party, and it works.  I can't understand it, but I appreciate it.
I don't understand the obsession with them, but they're not terrible.  I'll view them like pop punk.  Sure, it's not "real" punk, but if it gets people to try something they otherwise wouldn't, then it's acceptable.  Green Day leads to Gang Green.  Hopefully a Rock 'n'  Roll event will lead a new runner to Valley of Fire or one of the many other excellently run small races in this country.
After all, as much as I hate it, sometimes I do shop at Wal*Mart.  Maybe I'll periodically run a Wal*Race.
Did I mention the medals glow in the dark?