Day two of the foolhardy plan to run two marathons in one weekend brought me down to the Valley of Fire Marathon, appropriately enough in Valley of Fire State Park, in Overton NV, about an hour southwest of Mesquite.  As with Saturday's Mesquite Tri-State, Valley of Fire is also run by Planet Ultra – and run very well at that.
Valley of Fire is normally a self-service entry fee park, but to speed things along on race day they positioned a ranger at the entrance and asked everyone to bring exact change.  They parked us in a hidden nook of the desert opposite the visitor center, where the parking lot was closed off to use for a start and finish line area.  Bathrooms were much more plentiful this day, both in the ratio of runners at this smaller race, and thanks to the park's normal restrooms providing more options.
The views were already awesome before the race even got underway, and the DJ had selected an assortment of vaguely "fire" related songs to get in the spirit of the day.  Billy Joel's We Didn't Start the Fire, Johnny Cash's cover of Ring of Fire, Sean Kingston's Fire Burning . . . you get the idea.  The marathon started first, exactly at 7:00 PST this time; no 15 second delay.  And off we went.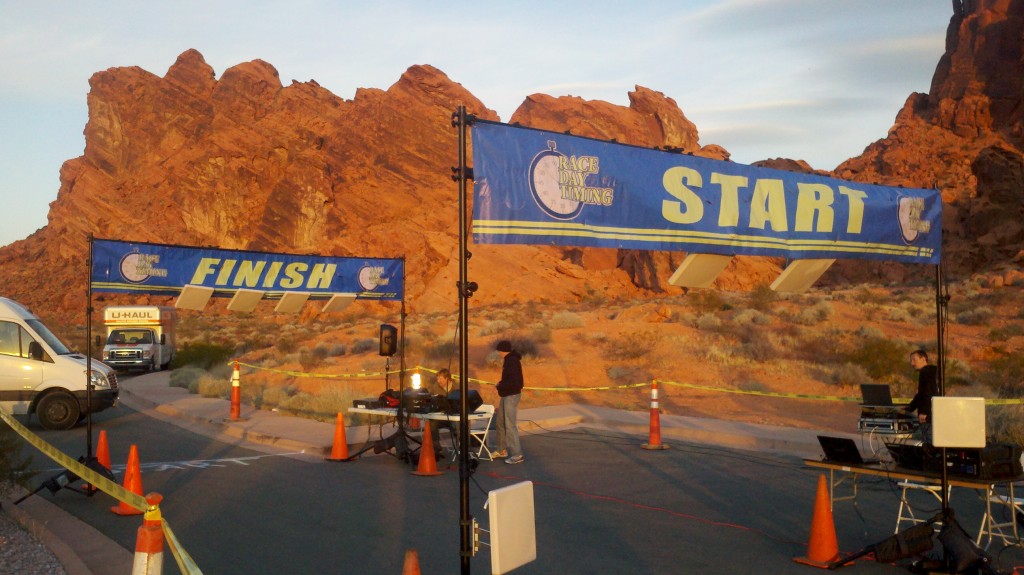 The course was absolutely beautiful.  As anyone who has ever been to Valley of Fire would presume.  I was, frankly, surprised by the small field.  This is a race worth the drive/flight/weekend from wherever you live.  I'd also advise people, no matter what their pace, to sign up at least for the half marathon.  There is a 5k and 10k as well, but the out and back course doesn't even crest the first magnificent view.  With a six and a half hour cutoff for the half, anyone who can walk a half hour mile is good to go.  Enjoy the hike!  The views are worth it1.
The first half is the half marathon course; it heads up the scenic drive, out to Silica Dome and back, then all the way out to White Domes and back2.  The 5k turnaround is at the intersection for the Silica Dome leg, essentially just going up a hill and back down it; most of your views are sheltered picnic areas.  The 10k skips the Silica Dome leg and goes out another couple of miles, getting a few nice views, but missing the really nice ones at the Duck Rock end of things.  The hills on this first half are nothing to be taken lightly, but constantly rolling; just when you can't climb uphill any more you get to cruise down the other side.  They're steep, but short.  By comparison.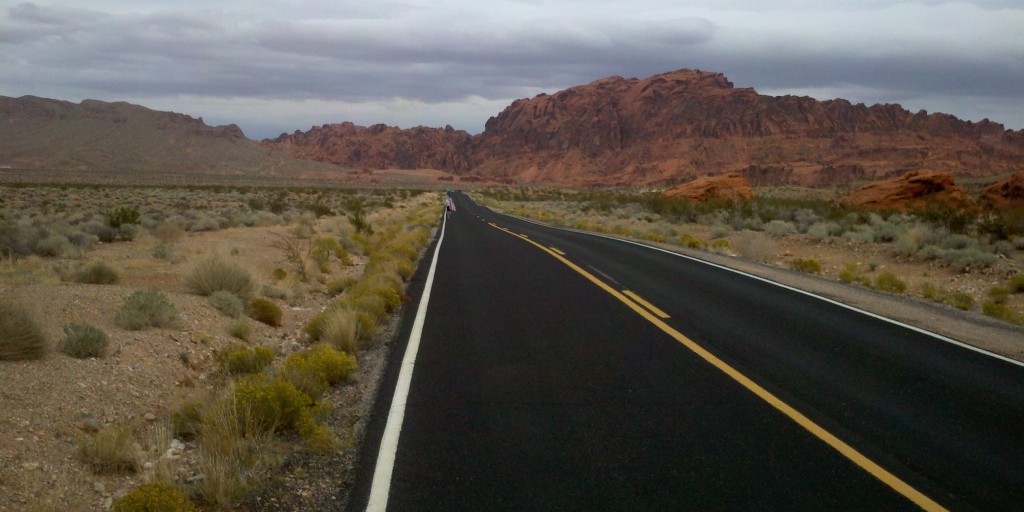 The second half of the course was out mostly on the Valley of Fire Highway, heading west from the visitor's center, with a few miles tacked on via the scenic loop past Atlatl Rock and Arch Rock.  Returning to the highway, we continued past the entry booth on that side of the park, and up the "Hill from Hell" for a total gain of just over 1000 feet of elevation3 in 10k before heading back down for the 10k to the finish.  More amazing views the whole way, of course.
Awards are presented right at the finish line, without pomp, as the park needs to reopen the parking lot as soon as the last runner is in.  They did a short presentation for the women's top winners, but for some reason they top three guys just got handed their awards on the sly4.  With cowbells given as awards to the top finisher in each age group for each distance, lots of people had the ability to make lots of noise disproportionate to the crowd size to cheer in each person in the trickle of finishers.  It really helped to overcome the last little 30 foot climb up from the road to the finish line on the second half of the marathon.
Plenty of treats at the finish line, even for the marathoners, who, as you might expect, did not, as a whole, run very many negative splits.
My Race
This was a scary race.  I had no idea what to expect on day two of a double marathon weekend.  It's the first time I've attempted it and I'm pretty sure conventional wisdom is to go easy on the first day to save steam for the second.  I, on the other hand, pushed my hardest on the first day, scored the PR I was pushing for, and when I signed up for the double I was looking at day two as nothing but a distance to cover.
Just when I needed it, Dan of RunJunkee posted a great reminder about Expectations.  I realized on Friday that I was going in to this weekend with no goals beyond "push hard Saturday and survive Sunday."  Which is fine for what Dan called the "I can live with that" goal, but no good for a comprehensive weekend goal.  I formed in my mind two sets of Awesome/Good/Liveable goals.  The first set, for Mesquite, of a PR (sub 3:29), a sub 3:40, and sub 4, respectively.  I never really came up with an awesome goal for Valley of Fire, but I suppose it would have been to not feel like I'd run another marathon the day before.  The 'good' and 'I can live with that' for Valley of Fire, was to finish within an hour of my Mesquite time or not be my slowest marathon ever, whichever would be faster, and just to finish within the seven hour course limit.  With my Mesquite time coming in at 3:20:23, that put my hour discrepancy mark at 4:20:23, so my "good" goal was 4:08:54, the finishing time from my first marathon in February 2008.
It's a difficult course.  But it's a beautiful course.  And I could certainly could have taken it easy and just stuck with that seven hour plan.  But aside from a little soreness in my quads I was feeling pretty good, so I went with the same strategy as Saturday and just went with what felt "comfortably hard."  As I climbed the first hill right after the start line – did I mention there's a fairly significant hill right after the start line? – another runner who recognized me from Mesquite caught up and asked how I was doing.  We got chatting, and before I realized it the two of us were in the second/third place position by the two mile mark.
I stuck with the aforementioned runner, Scott, who paced his wife in Mesquite rather than push for a personal best, and regularly runs much faster and further5 than I do, for about 10 miles, chatting about running and life in general, feeling surprisingly good, before I had to fall back and let him go on ahead.  He easily hung on to second place and was in high spirits when I saw him miles later coming down the Hill from Hell, giving me some much needed encouragement as I was trudging up it.
I actually maintained a decent pace for the beginning of the second half, maintaining the third place position until somewhere around mile 16 where the prior day's miles and what I thought was the Hill from Hell caught up with me and forced some walk breaks.  I spoke briefly with the next runner to catch me, Ron, who took some convincing to accept that he would be third place, but gave me mad respect for doing the double.  Thank you Ron! One more runner, Joe, would catch and pass me before we exited the park and I hit what was really the Hill from Hell.  And you can see it coming.  Which makes it that much worse…
In all honesty, I probably walked about 90% of the hill.  Yes, the Hill from Hell.
I signed up for this having seen the course profile.  So I was having no mental issues with what was ahead.  It was the sheer fact that my legs would have to traverse those miles whether I ran them, walked them, or shuffled along like a drunk zombie.  Towards the top of the hill one more runner, Doug, caught me, who had also just started running a few years ago as I had.  We stuck together through the crest and the turnaround, before he went on ahead for the downhill.  Somehow, three more runners – including Marathon Maniac6 and USMC Infantry Officer Kirby Mills, who carries a full size American flag for the whole race – caught me on the downhill before my legs realized that this was a down hill now and I could probably pick up the pace.
For those of you keeping score at home, that left me in ninth place in a field of 66.  For those of you bored to death by the play by play, I offer you this as a thank you for sticking with me this far:

Anyway, I managed to catch up with Julie, who also ran Mesquite the day prior, taking third place overall for the women, and chatted with her for a while before pulling ahead to finish maybe a minute before she scored the top women's position.  A double podium weekend for her – and all part of her training for an ultra in January if I remember correctly.  I'd be lying if I didn't admit that it felt kind of good to overtake someone before the finish – she was the first person I'd passed since the first mile when Scott and I found ourselves behind nobody but the leader, Marcus.  Who, by the way, was blazing along this course like it was flat.  I was overtaking some of the slower 5k and 10k walkers on the return leg of the first half, but once I hit the second half it was just the slow and steady rite of falling back one runner at a time.
As it happened, none of the guys who passed me were in the same age group – yeah, I ain't too proud to ask – so after a personally satisfying race on Saturday but no podium recognition I managed to score the cowbell for first in my age group.  Eight overall.  God I love small fields on challenging courses.  Nowhere else would a 4:02:19 be an age group winner for the under-40 crowd.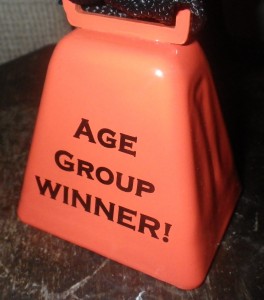 Yup.  Within an hour discrepancy of my Mesquite finish by eighteen minutes.  And not my worst marathon by over six minutes.  In fact, it's a minute and a half better than my finish last year at Grandma's Marathon and seconds faster than my time at the 2009 New Hampshire Marathon7.  So, then, while I definitely felt like I'd run a marathon the day before, I was very happy with the 4:02, and elated at the cowbell prize.  Plus, Planet Ultra is sending some as-yet-unspecified surprise out to everyone who participated in races on both days, so that's a little extra awesomeness to look forward to.
In the meantime, it's time to get some sleep before I fly to my parents' for Thanksgiving, then come back to Nevada for the Las Vegas Rock 'n' Roll Marathon – significantly bigger than Layton, Mesquite, and Valley of Fire8, my first Competitor group event, my last 26.2 for the year, and lucky number 13 for me overall.
Maniacs and milers
Brief side note: I joined the Marathon Maniacs last year after my foolish pursuit of a PR and/or BQ before I turned 35 had me register for three races in fairly close proximity to one another.  Each got progressively slower, which is what led me to my hiatus from the distance for over a year, but in the process I managed to qualify for Marathon Maniacs by running the Kentucky Derby Festival Marathon and Sunburst Races Marathon within 16 days of one another.  I didn't initially see the point of joining, but after some encouragement from my wife and some new friends made at Grandma's, I shelled out the modest membership fee and bought the singlet.
Financially, I justified it as needing to get a high-visibility sleeveless shirt anyway and the fact that the dues are pretty much paid for by running just one race that gives Maniacs a discount each year.  But I never saw the value.  I saw Maniacs here and there at races, said "hi," but never felt like there was any sense of community.  Granted, I never wore my damn Maniac singlet to a race.
This weekend, since I was doing the double – which improves my standing from one star to four – I figured I'd wear the singlet.  Surprise surprise; when people know you're "one of them" they're suddenly much more social.  I had a dozen instant friends at each event – people to talk to prior to the event, cheer for and wave at when we passed each other en route, and to catch up with and congratulate afterwards.  Yeah, okay, it got a little corny at Valley of Fire with all the out and backs creating a few too many "hey Maniac!" shouts, but each one taken individually is very much appreciated.
Since my wife and I travel around so much, our contact with the "local running community" is mostly virtual.  We stick around some places long enough to run multiple local races and make a few friends, but the contact is pretty short lived.  Most of our outside contact is virtual. Though I think I'm fairly asocial by nature, I kind of like this "instant friend" attitude.
I also caught up briefly with Teri, one friend from dailymile who was also running Mesquite, but she was the only person from dailymile9 that admitted to attending either of these events.  In fact, the Mesquite event page is how I "met" her.
On the flip side, over 300 people have indicated that they're attending Rock 'n' Roll Las Vegas, but only a handful seem interested in a get together.  Maybe this is because the site doesn't provide a really good way to let people know that there's a meetup organized for an event (let alone prevent people from creating duplicate event records for the same race).  Or maybe people just don't like to commit in advance.  The attraction of a dailymile singlet is beginning to dawn on me…