Don't hold back…
If you think about it too much, you may stumble, trip up, fall on your face…
Don't hold back…
You think its time you get up, crunch time, like a sit up, come on keep pace…
Don't hold back…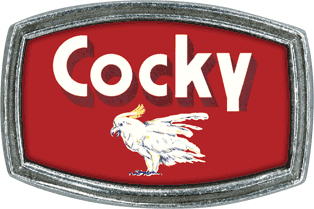 I woke up feeling strong, prepared, and ready to run a great race.  It was pouring all night and was supposed to pour again in the afternoon, but rumor had it that the odds of a dry run were pretty good.  So I was feeling pretty confident and decided to shoot for my stretch goal; qualifying for Boston.  It would be a 20 minute improvement on my PR, but this is my second to last reasonable attempt to BQ in the open division.  So I set out at a 7:15 pace with the plan of dropping back to the 3:20 pace group if things went to hell.  And off to hell they went.
But before we discuss the scenic route to hell, the Kentucky Derby Festival Marathon itself: pretty much awesomely run from start to finish.  I don't think I can find a single thing to fault in the entire event – and I can be quite the irritating nit-picky ass at times.  Okay, there's the overuse of single-use plastic thing, but I'm trying really hard to forgive them for that.
Pre-Race
The KDF marathon is a one-way course.  The starting line is out in a residential neighborhood on the south end of Louisville, where, as one might suspect, there aren't any huge urban parking garages or the like.  So, parking was downtown in huge urban parking garages with the promise of shuttles to the start line from three locations near the expo center.  A similar setup was used in Eugene last year, with parking out by the mall, but Louisville did it up right.  Where Eugene actually had to delay its start to give the buses time to shuttle everyone to the corrals, Louisville had dozens of buses waiting, the roads already closed to non-race traffic, and everyone down at the start line with plenty of time to spare.
A local elementary school served as a fluid exchange center, with thousands of water bottles available1 and probably near a hundred port-a-potties.  Of course there were lines when everyone tried to get that one last visit before lining up, but the lines moved quick and I was very impressed with how well the volunteers were able to funnel everyone in to the right spot.
I couldn't find the 3:10 pace group at the start line (maybe there wasn't one) so I just hung out near the hulking guy with the IronMan tattoo on his shoulder figuring he seemed the 3:10 type.  (The start gun was the last I saw of him.)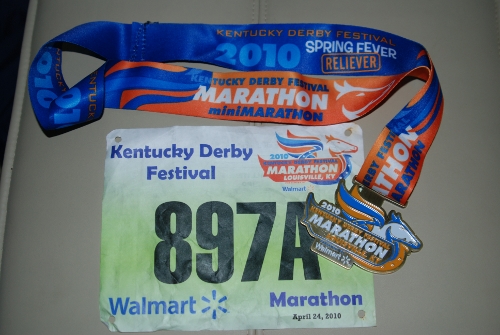 The Race
This will probably sound bitter.  It is not meant that way.  I have no regrets for my approach to this race.  I ignored the fact that my training hadn't been going well.  I ignored the fact that I woke up the last few days with mystery pains in my shoulders.  I ignored the fact that I would need to improve my best pace by 20 minutes to do what I was trying to do.  But if I never try to do it, I'm certainly not going to succeed.  That's how stretch goals work and I'm going to try it again in South Bend.
Mile 1 – Feelin' good, feelin' strong, feelin' well, yeah, cocky.  I don't often run with music, but I used it to power through to a PR in January and I picked up a snazzy pair of YurBuds at the expo (so that headphones would actually stay in my big slutty ears for 26.2 miles) so I went for it.  I keep my running mix on random, but it always starts on Galvanize.  It's the perfect song for the start of a race – the tempo is nice and slow, but it's still very energetic, plus all pep-talk-full and stuff.  Somehow I still did a 6:58 mile.  Oops.
Miles 2-4 – The course starts with a lap through Iroquois Park to turn us around from southbound to northbound.  The steepest part of the course (a whopping 2% grade) is at mile 2.5, according to the course elevation profile, but it kind of blinked by without notice.  Reinforce false sense of preparedness: check.
Miles 5-6 – You come out of the park and start heading north on Southern Parkway (which becomes 4th street, for those of you who actually know Louisville).  Not much excitement except for a nice wide, flat road for a while.
Mile 7 smelled like wet horses.  This is the reason we chose this race.  And part of why we chose Louisville as our home for a couple of months.  We entered Churchill Downs through the horse tunnels – blowing right past the No Baby No – Go Baby Go "traffic" light.  As we came up in to the infield I thought for a second that the Track Announcer was giving a Derby-style update on people as we ran through, but it turned out to be a recording of a recent horse race.  Still pretty frickin' cool.
Miles 8 – 12 – When we came out of the downs and start heading for downtown again we were greeted with a pretty awesome view of the Louisville skyline.  I was pretty excited to already be in visual contact with the finish line, even as I realized that about a mile before it I'd be told to turn right and go visit some trendy suburbs.  The mini marathon and full (or "maxi" as the DOT traffic sign read) split ways just after mile 11, with the mini heading for Waterfront Park in a round about way and the full heading out to the hills.
Shortly after this realization, I passed under a rail bridge just as a train roared by.  As the sound faded enough for me to hear my music again, Everlast started belting out his cover of Folsom Prison Blues.  How apropos.  It made me smile.
This stretch of road is also home to the University of Louisville, and, apparently, several frat houses.  Sure to avoid letting me down when compared to University of Oregon students, University of Texas students, or any of the many students in Philly, they were out there in their "we'll stop drinking when you stop running" shirts, screaming at the top of their lungs and staying true to their word.
Worst spectator sign: "Your half way there, Ashley!"  Ashley, I hate to break it to you, but your friends don't know "you're" from "your" and unless you're running the 16 mile version of this race, they suck at math too.  At least they used the right "there."
Best spectator sign:  "Charles Finley2: call your probation officer."  Eight feet wide and gleaming.  I hope he appreciated the reminder.
After the courses split, things thinned out a lot.  Of the 15,000 people expected, there were 10,715 finishers in the mini and only 1095 in the full.  The remainder apparently ran the relay which has no results posted or just decided to bail due to the potential for rain.  As I crested the first hill, a spectator informed me that I was in the top 80.  He was apparently keeping track as best he could and letting everyone know where they stood.  This was probably the last I'd be at such a ranking.
Miles 13 – 19 – The 2.5 mile mark might be the steepest part of the course, but the gentle undulating hill that is the Louisville Highlands3 is what did me in.  (Well, that and the overconfident plan, fast start, and lack of military drive…)  My upper legs just started locking up on the hills.  I felt like I had energy but the legs wouldn't make a running motion.  I walked a lot of the hills, pushing as best I could to make up the lost time, but it just wasn't happening.  The 3:20 pace group caught up with me somewhere in mile 11 or 12 and while I stuck with them for a while, I lost them here.  The 3:30 pace group caught me and kept going.  The inexplicable 3:35 pace group did the same.
In Cherokee Park I caught up with a kid who was looking as miserable as I was.  It was his first marathon and the hills were doing him in.  I tried to cheer him up and remind him that all he has to do was finish.  I also accidentally lied to him and told him we were on the last big hill until the ramp up to cross the Ohio River.  Apparently there was one more long evil hill.  In my defense, I wanted to believe it was the last hill too.  Those that head east out of the floodplain must then head west back in to it.
Miles 20-25 – The race directors, though organized and skilled at their jobs, are cruel, cruel people.  When you get to Main Street the atmosphere starts picking up as the crowds get bigger4 and louder.  Then, about half way through mile 21, you pass the finish line and start running past the runners who are about to be done.  And we had almost a 10k left to go.  In Indiana.
On the less depressing side, I got to see the second place woman, Mariska Kramer, book it past all the mid-to-back pack mini-marathoners, which was quite a chore given the fact that they didn't know she was coming.  The difference in pace was insane.  It was like a Dutch hyena flying past a herd of grazing buffalo 5.
The bridge over the Ohio River is wicked long.  We cleared nearly a mile in each direction.  And compared to the Talmadge Memorial Bridge6  in Savannah, GA and the Sidney Lanier Bridge in Brunswick, GA, it's pretty much flat.  I wasn't quite able to get back to my typical pace (let alone my race pace), but I was doing much better than in the Highlands.
Indiana was . . . quiet.  There were no crowds.  The only people out were volunteers running solo corner duty or the occasional somewhat confused looking citizen sitting on their porch.  There was no water stop until the ramp to go back to Kentucky, but one woman who lived along the river apparently decided to set up her own, for which I'm very grateful.
I wasn't the only one suffering, but as we neared the highway again, I pointed out to the two people near me that I could see Kentucky again.  The woman said "you're right – let's do this!" and the three of us took off with renewed spirit.  Right around the corner was the best water station ever – about 40 Boy Scouts and their families, all screaming and cheering and making sure we got some fluids.
At the crest of the bridge a woman wearing a camouflage bra top and bikini bottom7 was screaming at the top of her lungs like a drill instructor.  The typical "you're almost there" speech, but with all sorts of motivational "kick it in to high gear" and "give it everything you've got – and then some" and hand gestures and volume that made me fear for my life if I didn't obey.  So it was maybe a little early to start pushing, but push I did.
Mile 26+ – I had to take a little breather before turning back on to Main Street, but once I did I pushed as hard as my body would let me.  Something in my leg started poking from the inside (is that bad?) and every muscle in my legs burned, but that only pushed me to finish faster.  I was dodging a lot of mini marathon walkers, and I may not have actually passed any marathoners, but I made up some time and finished just under 3:45.  Only 25 minutes slower than my moderately realistic back-up plan goal.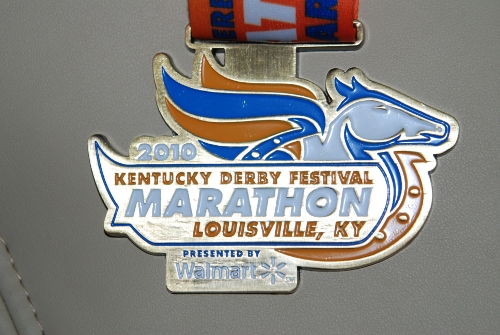 Definitely not my best race – in fact, by a few minutes it's my third worst – but it was awesome fun and I'd do it again in a heartbeat.  A beautiful course, awesome volunteers, more than adequate supplies and services, and a finish line corral that doesn't feel crowded at all.  I got my free cup of Michelob Ultra, stretched out on the lawn for a while, consumed all the water I could, and visited the BSA Adventure Base 100 exhibit before heading back to the Highlands for lunch.