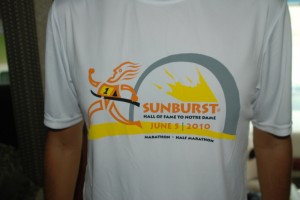 Tomorrow morning I'm running the Sunburst Marathon in South Bend, Indiana.  I'm up way too late for a 6 am start, so this will be short and sweet.  They've got six different events running tomorrow (in addition to the stroller-friendly family walk 5k tonight); the Marathon, a Half Marathon, a wheelchair Half, a 10k, a 5k, and a 5k walk.  All six events start at the College Football Hall of Fame, and finish at the fifty yard line of Notre Dame Stadium.
I'm a bit concerned about the fact that the six events are each starting at a different time, spread out across over three hours, yet all merging together for the last mile and a half.  Looks to me like the 5k walkers are going to have a whole lot of marathoners trying to jockey for space with them, not to mention what happens when the faster half marathoners catch up with the slower 5k runners or when the mid-pack marathoners merge with the slower 10kers.  What do you think?
5:50 – Wheelchair Half Marathon Start
6:00 – Marathon Start
7:15 – 5k Start
7:30 – Half Marathon Start
7:45 – 10k Start
9:00 – 5k Walk Start
I'm hoping that since they've done this before they know what they're doing.  All the literature says for walkers to stay to the left, but we all know how well people follow instructions.  Maybe there will be enough volunteers to keep thing organized.  I'll find out in the morning.
As for preparedness, I'm not holding my breath for a BQ, but I'll try my best for a PR.  In the 5 weeks since Louisville that I was supposed to be pushing hard for a great improvement I managed to miss two long runs, get sick and screw up my speedwork, and overall just really doubt myself.  Someone needs a hug.
And now it's almost 10:00 and I'm still typing.  SO STUPID.  To bed with me!  Race report tomorrow, or when I find a faster network to play with.
Good luck to every running God's Country, Green River, Timberline, Casper, Deadwood-Mickelson, Lewis and Clark, Minneapolis, NipMuch Trail, San Juan Island, Steamboat Springs, Rock 'n' Roll San Diego, or anywhere else this weekend.  It's a busy one!