Yup, I've been slacking a bit on the ol' blog updating front, but a speed test race seemed like a good time to jump start the habit again. I started my new training plan for New York City back on May 21, following Jack Daniels' Marathon Training Plan A from his Daniels' Running Formula. For those unfamiliar with his approach, he splits a training season in to four phases, the first of which is Foundation and Injury Prevention – essentially just logging on the miles with no "quality" workouts. In the second phase, Early Quality, you start bringing in those quality workouts, where determining your training pace for Easy, Marathon, Threshold, Interval, and Repetition pace workouts becomes very important. And thus far I'd been trying to decide on basing these paces off a year old 5k PR or a six month old Marathon PR. Neither of which is a really good basis for a quality training effort.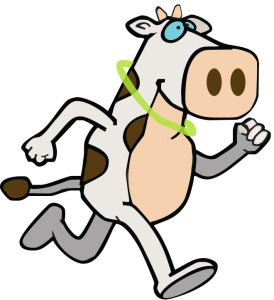 Enter Davis, California. Just about 45 minutes west of our current home of Auburn (the self proclaimed Endurance Capital of the World, but I'm not about to use a hundred miler to get a training pace for a marathon!), and home to an awesome little race company that does a series of ten races during the year, with their midsummer MOOnlight Races coinciding with the end of week eight of my training, so an all out effort on a half marathon would have to be my base point for training.
But my training plan is a story for another day.  Today, we're talking about the race…
The Race
As one might imagine by the name "Moonlight," this event starts at dusk.  Until a couple of days prior, I actually thought it was a Friday night run, but as the date drew near and the math reduced itself from a third grade level to a first grade level, I realized that I didn't have to worry about getting out of work on time or anything of that sort.  Just watch what I put in my stomach on Saturday and get a parking spot on time1.  Done.
And as one might imagine by the capital "MOO" in "moonlight," there was a bit of a cow theme going.  Thus, we knew we were at the right spot when we saw a group of runners with cow ears, cowprint skirts, and cowprint kneesocks stretching out on the hills around the Kaiser Permanente campus in Davis.  Volunteers were still cutting watermelons and bananas while vendors and sponsors were setting up their tents and such, but the bib distribution team was ready to rock – well in excess of the runner load at the time2 – so I was back at the car getting changed much faster than expected.
The kids' mile race is first, which was very will organized as an out and back along the first half mile of the course.  From the kids out in front running all out the whole way – to the point where the lead cyclists had to hustle to not get caught – to the blind bringing up the rear it was one of the coolest kids races I've ever witnessed.  The crowd was enthusiastic the whole time, cheering every kid across the line.  Very well done and very cool crowd.
Next up was the 10k and 5k start.  At the time I3 didn't really get the idea of starting the shorter distances first – I kind of assumed the best practice is to start the longest distance first and work your way down so the shorter distance finishers aren't sitting around waiting for the longer distances for awards, friends, etc.  But having my wife play spectator yielded a fascinating observation; starting the shorter distances first gives the crowd nonstop action.  With a ten minute lag between starts, by the time the last of the half marathon walkers cleared the first corner there was only a couple of minutes before the fastest 5k runners started coming in.  Thus, constant stream of action either starting or finishing.  And constant cacophony of cheers.  Pretty clever, Change of Pace. Pret-ty cleverrrrrr.
The race course was surprisingly awesome.  First off, it was pancake flat.  The race website didn't have a course profile, but I managed to trace it out fairly decently on mapmyrun based on the course map.  There were some lines that seemed to not follow any roads, but I did my best job estimating and realized that barring an unmapped volcano sticking out of suburban NorCal it was wicked flat.  Davis is apparently 30 feet above sea level and the course's high and low points varied by less than 20 feet.  A fellow Maniac that spotted me4 before the race warned me not to be overconfident as there are four steep inclines up and over the highway – twice over each overpass.  All the same, that couldn't have added more than maybe ten more feet to the overall profile.  This was a delightfully flat ass course.
Secondly, while I certainly didn't choose this race for the scenery5, it turned out to be a very scenic course.  I was expecting a fairly bland road race through a residential section of a mid-sized city.  But lo!  The reason why the course map was so hard to follow was because most of it was along pedestrian paths in greenways.  Davis apparently has each suburban block spread apart a bit so they can fit a city park in between people's back yards.  Couple that with a coupe of city parks and sports fields and kabowpalooma! – you've got maybe a mile of the half actually on "roads."  Have I mentioned that these race organizers are pretty clever?  Pret-ty cleverrrrrr.
Aaaaand, when they say that the Golden Valley Harriers will be providing pace group leaders, they don't mean at ten or fifteen minute finish time intervals.  They mean that there will be a friendly, chatty, experienced pacer at five minute intervals starting at the 1:30 finish time target.  So, hell, my PR is just about 8 seconds shy of 1:30 – I might as well push and see if I'm able to stick with my new friend, Steve Andrews, for the duration.  If I fall back, or if I get to the 10 mile mark and feel like pushing harder, then I know where to adjust my training to.  We'll get to details on how I faired later on, but suffice it to say that not only Steve, but all the pacers that my wife witnessed (before we managed to find one another) were within a minute ahead of their target pace.  Mad props to the the Golden Valley Harriers.  Awesome job, ladies and gentlemen.
What else is there to say?  The race was flat.  It was well organized.  It was well marked, with arrows6 every quarter mile, if not more often, as well as at every turn or potential intersection.  There were volunteers at every turn or intersection, save one, with a smile, an encouraging word, and wild and accurate hand gestures.  There were water stations at every other mile, if not more often.  There were small children around mile 10 with glow sticks, prelooped for easy hooking with an outstretched arm.  There was accurate chip timing, ample parking, and plentiful food, drink7, and entertainment at the finish line.  There were glow in the dark tech shirts and finisher medals.
The post-race festivities seemed fun, but we needed to get my wife's injured foot to safety, so we didn't stick around that long.  Rumor has it that the post-race beer was just Miller Lite, so no loss on skipping that.  I don't really understand why races bother with post-race beer if they're not going to have something decent, but, well, to each their own.
My Race
Then there was my race.  I started off a little fast, maybe 20 seconds ahead of the pace group, chatting with another runner who has a sub-3:10 PR and has qualified for Boston multiple times.  I was a bit concerned about being ahead of "my" pace group, but I figured if this guy8 ran steady then he could be my pace group.  A couple of miles in, though, the pace group caught us, we picked up the pace a bit, but then fell back with the group.  I think at some point he actually dropped back behind the group, as I lost track of him before I had to drop back from the pack myself, somewhere around mile 9.
Completely random side note: Steve, the pace leader, is from Bucks County, PA, about an hour from my parents' place in New Jersey.  I may have sold him on the Bucks County Marathon, something I'm hoping to run some year on a visit home during the weekend before Thanksgiving.
After mile 9 I just couldn't hold the pace.  My lungs and mind were ready and willing but the legs weren't quite there.  A spectator actually tried to cheer me on to "catch the damn sign," but I slowly watched him pull ahead of me a little further on each turn.  Getting the glow sticks were fun and spurred me on a little bit, but I ended up losing about 10-20 seconds each mile, finishing almost three minutes off the 1:30 target.  My pace group became one guy ahead of me, who was wearing a white shirt through which I could see a huge tattoo that appeared to read "DAVILA"9 – it took all I could to catch up with and eventually pass him, and at the finish he let me know that I was all that kept him up to pace through the finish.  Sometimes all you need is one well matched running partner.
The final official results clocked me at 1:32:14.  Not too far off my target, but not quite what I thought I had in me.  What mattered to me was that it was an accurate assessment of where I'm at right now in my training.  In Jack Daniels' terms, that's a VDOT of between 49 and 50, which is only two points off of the 52ish VDOT I was using based on a way-too-old 5k pace, but those two to three points can make all the difference.
In the weeks between running this race (it was held on July 14; my bad!) and writing this report I've found that the VDOT of 49 pace targets appear to be the right place for me right now.  The Interval and Threshold workouts are difficult but possible10 just as they should be.  Which is far more reassuring than the VDOT of 52 targets which had me mostly saying "really?!" to myself over and over as I put together my plan back in May.
So that's that.  A successful assessment race and good time had by all.  I might sneak something else in during Phase III of the plan if there's something nearby and reasonably priced, but with Ragnar Napa Valley coming up in September, that's pretty unlikely11.
The exciting bonus?  When we checked the results at the finish line I was listed as "4 of 0" in my age group.  The timing company guy explained the zero by saying that they had a lot of people switch from half to 10k at the last minute, so final numbers weren't adjusted yet.  He also suggested that I check the results online after a couple of days in case my position was adjusted.  After said couple of days I took a look and learned I had jumped from 4 to 1 in my age group (and 29 to 23 overall).  Well that's quite a bit of correction!  (It turns out that said folks many of said folks who switched from half to 10k didn't actually tell the timing company until after they ran the race.)  Bonus!
Especially because said age group position scored me a second glow in the dark medal.  Hot damn, I'm a sucker for novelty medals.
Score.  I'm going to go ahead and give two enthusiastic thumbs up to anything Change of Pace organizes.