To celebrate Canada's 144th birthday, my wife and I signed up for a local 10k, initially not realizing that Canada Day was a Friday1. Though "The Rock" was a bit on the pricey side for a 10k, it included high end Brooks technical shirts, finisher medals for all, additional medals three deep for 10 year age groups, and a custom designed diamond and white gold necklace from José and Co for the top male, female, and fundraiser, plus a randomly drawn winner.
Of course, my wife advised me to win the diamond for her, which seemed like it might just be possible with the right combination of conditions and competition.
I'd spent the prior week in Long Beach2 for a conference.   I ran daily, primarily because there was a qigong class at the conference center every morning and I had to get to it one way or another3, and was getting pretty optimistic about this 10k, given how easily 7:20-7:45 paces were coming without pushing.  Granted, Long Beach is significantly flatter than White Rock.
When the race started and the starting chute stretched out, I was positioned in what I think was 7th place.  I held this with a pretty strong pace for a couple of kilometers, overtaking two other guys on the first couple of hills.  Unfortunately, this position was short lived, as around kilometer three I could barely see beyond the guy immediately in front of me and could distinctly hear two people on my tail.  In the third kilometer one of the two guys I'd passed caught up with me, shortly followed by the first woman.  My pace slowed, but I worked hard not to lose any more ground, despite the disheartening realization that 3.1 kilometers was not the half way point.
According to my splits, my slowest mile was mile three4, clocking in at 7:34 versus the 6:20 and 6:40 that preceded it.  After that, the course leveled out until the last mile and half, which was almost all downhill, progressively steeper as we neared the final little incline up to the finish.  I managed to hold position, clocking 6:55, 6:27, and 5:52 for the second half, but couldn't quite catch up.
Initially, my time showed 40:35 on the printed race day results, which was close to my GPS 40:33 estimate, but the official results have since adjusted that to 41:06 for reasons unknown.  (Actually, the reason is probably tied to the same adjustment that bumped me from 5th overall and 1st in my age group to 7th overall and 2nd in my age group.  Two people ahead of me apparently didn't record a time as they crossed the line.  At least one, the other guy in my age group, had his chip in his pocket.  Not sure about the other discrepancy.)  Regardless, I was happy with my time, despite it being short of my PR and sub-40 goals.
Post-race, we enjoyed a pair of musicians5 who entertained from the bandstand in Semiahmoo Park while participants waited for their fellow runners and walkers6, enjoyed brownies, fruit, and Gatorade, tried out the Street Striders that were there to demo, and generally loafed about on the grass.  José (of José and Co, of course) was showing off the necklaces he'd made and letting people pose for photos with him and the diamond jewelery7.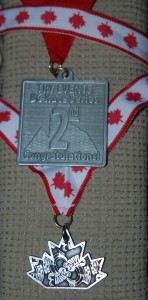 After the kid's race8 we had the awards ceremony, starting with the overall top three and the winners' diamonds, then working through all the age group awards.  Though I'm typically opposed to announcing every age group award, the combination of relatively fast paced announcements, the ten year spans instead of five, and the fact that this was a precursor to a lazy day on the beach for us (and a majority of Canada) made it work out just fine.  I could have gone for an earlier start to the kid's race and awards, but since there were so many walkers, waiting for them is just the right thing to do9.
Overall, we had a great time.  It was really a very well run race.  There was a volunteer in jovial spirits on every corner or intersection, duded up in a high-viz vest, providing encouragement no matter how thick or thin the crowd10, controlling traffic as necessary, and directing runners to avoid any confusion.  If anyone went off-course it was deliberate.  (Except maybe for the bottom of Stayte Street, where you have to transition from a 45° downhill sprint to a sharp right turn towards the finish line.)  The finish line crew were great, managing to announce every single finisher's name, letting them know if they won a "door" prize in the process, removing tags, and awarding finish medals without any confusion.  They even managed to let a guy who'd left his car parked overnight in a lot that was completely barricaded by the finish chute escape without running over any runners.  I don't think I have a single complaint (unless I wanted to make a stink about the change in my finish time) save for the lack of brownies for walkers.
After the awards, my wife and I partook in what is now cemented as our official post-race activity: pub brunch!  We chose Sláinte By The Pier, because, well, it had tasty looking vegetarian options and local cider.  It was pretty much delicious from start to finish.  As a bonus, our waiter had Iron Maiden Vans.  Until he randomly came out with different shoes.  Weird.  We had two desserts.  Yum.
We were hoping to continue the celebrations with an Independence Day race over the border on Monday, but the closest thing we could find was all the way back in Sedro-Woolley.  Jeez, Blaine.  Step it up, kids.  Represent the Runner Americana!