So they claim.  Didn't realize Duluth was a "small town," but I guess compared to other cities that can handle a 9500 person marathon and 5000 person half along with a 1500 person 5k, it's pretty small.  But it's certainly a city.  A pretty cool, mostly industrial city three hours from anywhere else right at the tip of Lake Superior.
I wasn't originally planning on running Grandma's Marathon.  I had planned on the Sunburst Races Marathon in South Bend being one last shot at qualifying for Boston in the open division, but it was not to be.  (See my race report for an Ode to Humidity.)  But somewhere between Kentucky and Indiana 1 my personal trainer, coach, cheering department, and occasional reality check2  found Grandma's and thought it would be a good back-up plan to Sunburst.  Which turned out to be a good plan, given the 94% humidity in South Bend.  Knowing that Grandma's was coming up two weeks after Sunburst helped me let go of the "race mentality" and really enjoy a nice long run in preparation for tomorrow.
So here we are.  In Duluth, the day before.  It's been pouring rain on and off for the two weeks since we got here so I didn't get a lot of running in (never mind the whole recovery/taper thing) but we've been living at an RV park right on the race course 3 and the miles I did were right on the course.  As a result, I'm pretty intimately familiar with the first 9 miles or so (which is where the "hills," such as they are, are).  Hopefully, this will help me keep on pace for something new.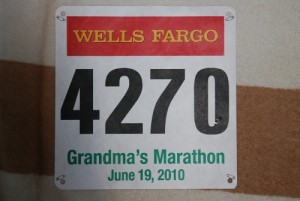 My Plan
As far as I can tell, Grandma's has no pace groups.  So I'm going to try an approach recommended by Coach Patrick at MarathonNation; Negative Splits, but not really.  Miles 1-5 are done at 15 seconds slower than target.  Miles 5-20 are done at 5 seconds faster than target, and the last 10k is done right on target.  Because I'm precise like that.
EDIT:  They DO have pace groups!  My starting pace is in between 3:30 and 3:20, so I won't be with them, but it'll good to have them as indicators.
I'm also going to try and be realistic and not burn myself out again shooting for a BQ time.  It's not going to be as humid as South Bend, but we're probably starting at around 80% humidity and reducing to maybe 50% by the three hour mark, which is still pretty humid.  So I'm shooting for a 3:20ish, which would still be a PR for me and make me very happy4.  Following Coach Patrick's plan, that would be five miles at 7:53, then fifteen at 7:33, and the final stretch at 7:38, which just looks so much more appealing than 26 even 7:15 miles.
Yup.  So that's the plan.
The Expo
We were planning on hitting the Expo today, but I've been wicked stir crazy lately5 and foolishly suggested we head in last night to avoid the crowds.  On one hand, I'm glad we did, because the Expo felt crowded when it was empty and I fear what it will look like today.  On the other hand, I've been regretting it ever since, because I inadvertently dragged My Awesome Wife along when she really wanted to stay home and veg out6.  Problem is, I still want to see Kara Goucher and Hal Higdon speak, and maybe grab a signed copy of Hal's novel, Marathon
.  And hopefully catch up with some DailyMile folks.  And most importantly, I've got a race packet for Sam from Operation Jack who's getting in late tonight and is going to need his bib before marathon 30 of the 60 he's doing this year to raise money and awareness for Train4Autism.  Half way point, Sam!
The Expo, overall, was pretty disappointing.  Aside from the weird layout that made it feel crowded, it had no sponsor or community content.  You know the block of stores selling running gear that you really shouldn't even be thinking about the day before a race and cotton t-shirts with vaguely run-related witticism that they usually use to fill out expos with?  That's all they had.  No cheerful running community chatting with people, handing out fliers for local events; no local chiropractors and physical therapists giving out coupons and random trinkets with their logos; no tasty food samples of the latest form of digestible nutrients; no spin-the-wheel-and-win-free-rice; you get the idea.  The one cool thing was that SuperOne, a regional supermarket, set up a mini-grocery store of produce and the like, which it probably pretty handy for those who are staying in a hotel with no car or desire to wander aimlessly looking for food.  7  And Hal signing his book, but by the time I got to him he was packing up – hopefully he'll be there today and it will be safe to venture in.
Duluth
The best part about this is how big a deal the marathon is to Duluth and the surrounding area.  It's THE event this weekend.  I've seen television ads for big races before, but never specific ads inviting the public to the spaghetti dinner or Expo.  I've never heard such frequent mention of a race on the radio – multiple channels and in casual DJ conversation, not ads.  For the past two weeks, all over town, when people find out we're not local they ask if we're running the marathon.  (And the full or the half?  And is it your first or your fiftieth?  What's your favorite distance?  Etc…)
There are banners up all through the city.  The route has been marked since we got here.  Every business in town that can figure out a way to tie it in is doing some sort of promotion for the weekend.  Even Two Harbors, the smaller dock town near the start line has signs and promotions running all over the place.  There are rumors of different bars around town having free beer for the first few finishers to show up with a bib (how's that for incentive?).  Grandma's is selling 26.2 ounce cocktails post-race (in those cheesy plastic souvenier yards).  Even my RV park owner gets in on it; he plays accordian in an Irish band (though I think he's of Norwegian decent…?) and owns a business on the course: look for Ninety to the Dozen performing under a Norwegian flag somewhere near a Red Baron style airplane and flying saucer made from old satellites.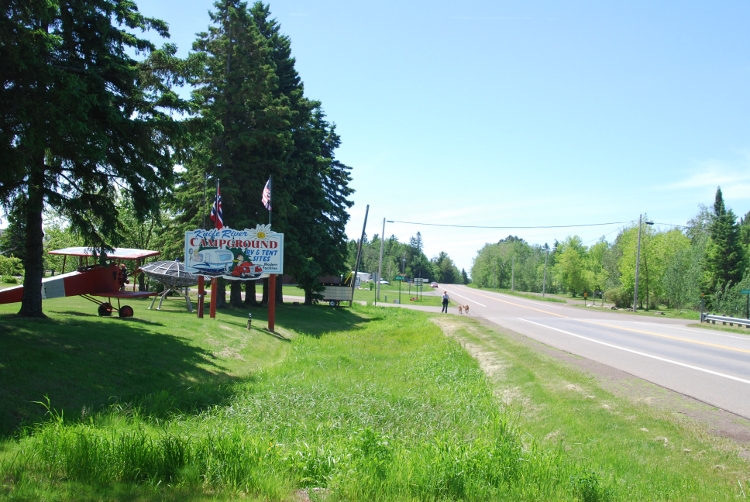 Did I mention northern Minnesotans are a little bit crazy?  I love it here.