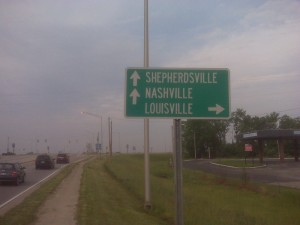 This post was originally just going to be a "farewell to Louisville," but then I remembered that one of the things I wanted to do with this blog was post pictures and routes of different runs around the country (and abroad) as I roam.  So I tossed my Blackberry in my pocket1 for today's long run and grabbed some snapshots for you.  As anyone with a Blackberry can tell you, they suck as cameras.  I apologize in advance for the photo quality.
It feels like we've been in Louisville forever, but it's been less than two months.  We were initially drawn in by the Derby Festival Marathon, cleverly promoted at the Philly Marathon Expo in November, and of course the desire to see the Derby itself at least once in our lives.  We've actually been staying in an RV park about twenty minutes south of Louisville in a town called Shepherdsville.  Shepherdsville is not known for much, but it's the home to the Zappos outlet, where they sell their returns at outrageous discounts.  If you've ever been to Fort Knox, Shepherdsville is the "truck stop town" you probably passed through when you get off I-65.
Anyway, Shepherdsville is where I did most of my runs.  Western Kentucky is apparently not a big fan of sidewalks or shoulders on their roads, so I was pretty worried at first, but a search of mapmyrun.com yielded an "all sidewalk" run starting in a neighborhood nearby.  It got me about five miles of sidewalk (out and back) and helped me discover that once you get off the main drag, there's so few cars on the road that the lack of shoulder isn't really an issue.  Kentuckiana drivers don't signal.  EVER.  But they are pretty good about yielding to pedestrians on back roads.
Louisville River Walk
About 20 minutes north of Shepherdsville is a little town people have actually heard of: Louisville, Kentucky.  Home of the Kentucky Derby, the self proclaimed Greatest RV Rally in North America, Muhammad Ali, Hunter S. Thompson, Sue Grafton, Colonel Sanders, and hip hop sensation Nacirema.  It's a bit further than I typically like to have to drive for a run, but they do have some awesome trails.  They started with a "River Walk" paved multi-use trail along Waterfront Park smack in the middle of downtown along the Ohio River and expanded out in both directions from there.  It's still in progress and slowly reaching out to connect with other trails south and east of town, as well as pedestrian access to a pair of bridges to build a loop in to Jeffersonville and Clarksville, Indiana.  (It actually already extends east of where the map currently ends, along River Road all the way out to a construction project just past the University of Louisville's crew cabin is.)  This is a small part of the larger network of parks and trails in the Metro Loop Trail.
Unless you live or are staying at a hotel elsewhere, I think the easiest access is at what is currently the extreme eastern end.  There's a large parking lot where the crew cabin is, which always has plenty of parking (presumably assuming you don't show up during practice or when the team is loading up for an away game…).  The map marks other easy access points.  The whole thing is paved, and if you come upon a staircase, there's also a ramp nearby.  A majority of it is only feet from the Ohio River (don't fall in!) and usually not that busy except for little chunks around the Tumbleweed Restaurant and a water playground nearby.  Along most of the route your biggest danger is territorial marsh birds that like to divebomb potential threats to their nest.
One minor challenge you might encounter is train tracks that cross the trail in two places.  Not that you aren't smart enough to avoid oncoming trains (you are, aren't you?), but that said trains tend to park for a couple of days while they filled.  It may have been coincidence, but the time I ran it the cars were positioned so that the trail went through the gap between cars, allowing you to hop over or under the coupling with relative ease.  Might be less fun with a bike.
Around Shepherdsville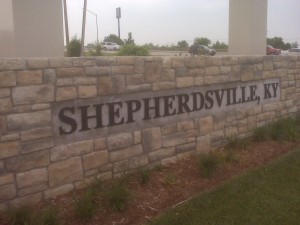 Normally, I just start and end my runs at the RV park we're at.  I don't like driving somewhere just to run.  But the RV park is on the outskirts of town where the speed limit ceases to be observed.  That plus the aforementioned lack of sidewalk yielded me surrendering to a commute down the road to where the sidewalk starts.  So, all these Shepherdsville routes start at the Bullit County Health Department on Lee's Valley Road.  They have ample visitor parking so you're not stealing space from a business' customers, they're right at the start of the sidewalk, and there's a suburban neighborhood across the street from their office with a nearly perfect one mile loop should you want to tack one or two on to any of the distances I've suggested.
5.5 Miles – 10k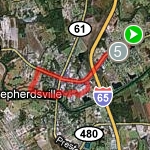 Aside from just hitting a quick out-and-back route (which is actually what I built all these routes off of), or a mile loop around the suburb near the health department, five and half miles is really the shortest loop that can be done from this start point.  You can easily do shorter loops from town by parking at the Kroger supermarket or another one of the large lots – there's also a YMCA that would obviously work out well if you're a member.  This route starts out like the two below will; head out on route 44, which is also 4th Street through "downtown" Shepherdsville.  You'll cross over the highway and then descend in to town.
At the first light, the sidewalk vanishes from 44 for a couple of blocks (right in front of the McDonald's . . . hmmm?)  Depending on how the light timing works out, I usually cruise across with traffic and jaywalk across so I'm facing traffic when there's a break.  If I luck out with a red light, I'll cross before the intersection.  Either way, this is one of the few spots in Kentucky with a shoulder, so it's all good.  Just watch out for the McDonald's traffic2.  Alternately, you can pad the distance by about a half mile (bringing the total up to just about a 10k) by turning right at
Keystone Crossroads and then a left at North Buckman (61).  Fun side effect; this makes your GPS route look kind of like a guitar.
Back on 44, when the sidewalk runs out there's an entrance to Frank E Simon Memorial Park3.  Every time I did this run the gate was open, but I did notice once that it was still closed around 7am; I'm guessing there's one guy on the County maintenance team that's responsible for opening the park in the morning and if he's out sick or running late, it stays closed.  The park parking lot eventually ends, but there's a gravel continuation that hooks up to the back side of City Park, aka First Street Park.  It looks like they're building a new football field back there, so life may change, but at the moment, it's an easy straightaway and left turn to hook up with the south side of Shepherdsville.  There's no sidewalk or shoulder at the beginning of Vine Street, but it's a rarely used road.  The worst part of this run is resisting the urge to stop at Waffle House or Dairy Queen as you come back up to 44 for the return leg.
12ish Miles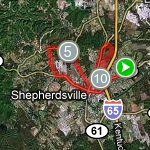 A 12 mile loop can be done almost entirely on sidewalks; there's just a little bit of road running required.  Head out on route 44, crossing over at the aforementioned McDonald's when the sidewalk ends.  The sidewalk starts up again a few blocks later, ends again at the Frank Simon Park, but continues on the other side of the road.  It's like someone at a planning meeting said "we should have a sidewalk on the main drag through town" but nobody really understood the purpose of sidewalks and the concept fo continuity.  It's not like the residential area dwindles out and it's all rural; there's still houses on the side of the road, but these folks have to dart across traffic if they want to say, walk three blocks to the library.
I digress.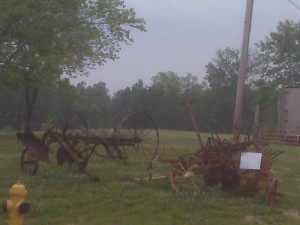 Route 44 intersects Raymond Road twice.  I usually turned at the first one (mostly because the first time I ran this loop I didn't realize there were two intersections), but the second one can be used to add on about three and half miles. As soon as you turn off of 44, sidewalks are but a silly thing that City Folk use, but the roads are so rural that it's not really an issue.  During "busy" times, there might be two vehicles going opposite directions at the same time, but that's pretty rare.  And people are likely to just stop in the middle of the road and wait patiently until they can pass you.  Kind of weird, but pretty safe.  And beautiful rural views almost the whole way.  The photos I grabbed were really overcast, but on a typical morning run it's awesome to see the sun rise over the farms and burn off the overnight mist.  Raymond Road dead-ends in a T with Chillicoop4 Road heading to the right while Raymond continues to the left.  Chillicoop crawls through the hills a bit, past the people you probably think of when someone says "Rural Kentucky" – yup, front yards full of several tractors that don't run, used mattresses, and furniture; shelled out school buses with grass growing on it; stumps carved in the shape of woodland animals; the whole thing.
You'll shortly come back to civilization and sidewalk at Blue Lick Road, which cuts back to downtown.  You can cut things short here or continue up to Conestoga Highway, which is an awesome steep hill climb with a brief view of town before the descent past Lowe's and the City Offices.  Why it's called Conestoga Highway is a mystery to most.  It is certainly not a highway; I think there are maybe three addresses along the whole thing (there's one distribution center opposite the City Offices).  It's barely a mile long, so you're not cruising across the state on this thing.  And there's certainly nothing to do with Conestoga wagons going on.  But, the complete lack of traffic makes for a nice run and the hill is just the right length to do repeats on if you're in the mood.  The best part; it's two lanes and doesn't need to be, so there's plenty of elbow room.  Don't be seduced by the sidewalk alongside Lowe's; it's only 100 feet long.
Returning to town, Conestoga Parkway quickly merges in to Keystone Crossings at the box store wasteland, where you regain sidewalk and return the way you came.
16.5+ Miles
The 16.5 mile loop heads out on route 44 like it's siblings, crossing back and forth to stay on the sidewalk, and turning right at the first Raymond Road, and then right on Chillicoop as with the 12ish loop.    (To make this route 20+ miles, stay on 44 until the second intersection with Raymond; it will loop back around to catch up with Chillicoop.)  Hanging the left on Blue Lick yields a couple of tight turns where drivers can't see you far off, so come up cautiously.  To cut this short, turn right instead of left on 1020; it'll turn out at just about a half marathon distance.  A left on 1020 up to Brooks is a slow and steady elevation climb, but when you turn on to Brooks Hill Road there's a Love's truck stop – a good place for a pit stop and to refill water bottles, etc just past the half way point (depending on the total distance you're doing).  Over the total distance, you'll pass about 8 liquor stores and 12 churches.  Welcome to Kentucky.
Bernheim  Arboretum and Research Forest
Just a short ways south of Shepherdsville is Bernheim Forest.  It's on the same exit as the Jim Beam distillery visitor center5 and local Boy Scout camp, so there's really no reason not to visit.  They charge a modest entry fee on the weekends, but it's totally free (during daylight hours) during the week.
They for some reasons have descriptions of their trails online, but no map.  You can pick maps up at most tourist flier kiosks in the area, plus there are usually some at the entrance.  The Millenium Trail is a 13 mile hiking loop that heads out in to the rarely used portions of the park and looks quite tempting, but I never attempted it due to their request that I register before heading out and my general laziness about doing so.  If you've run (or hiked) it, let me know what I missed out on, please!  All the other loops around the main grounds are interconnected, making it easy to mix and match distances to get a nice lap.  Additionally, the road that loops through the park has large sections that are closed off to cars on one side so the road is one way and cyclists and pedestrians have a nice wide paved lane.  (With the exception of the Hike-Bike Path, cyclists are restricted to paved trails6, of which there are few, so the road is nice if you're planning on biking any significant distance around the park.)
Most of the trails are dirt, save for the Nevin Lake loop which is mostly a nice wide gravel path with three short foot bridges and a few paved bits around the main "learning pavilion."  The trail is the favorite of walkers since it's flat and right off one of the parking lots, but rarely gets crowded.  Just keep an eye out for fishermen off the trail when they whip back to cast out.  It's about 1.3 miles for each lap around the lake.  The Nevin Lake trail connects up easily with the Sun-Shade trail, which is maybe another mile or so, and a trail across from the amphitheater which may or may not have a name – I think it might be an old campground loop, but I don't think they allow camping there any more – that is a nice short hill for repeats or another half mile out and back to the main loop.
All the other short trails loop off the main road and provide a variety of scenery if you're not the type (like me) who is perfectly content to run laps around a lake at sunrise until all the fog burns off and it's officially morning.  If you're lucky, you might even stumble upon a goose "performance" at the amphitheater where all the geese are hanging out on the stage and audience seating, facing each other as if a performance is going on.  It's like something out of a children's picture book.  Speaking of geese (no, really – don't!), they are apparently not welcome on the learning center lawn; the current approach as goose-poop-prevention is a couple of cardboard cutouts of wolves at strategic locations around the lawn.  Them things look realistic when approached from the right angle.  Be aware.
Elsewhere
That's all I got.  Isn't this post long enough already?  Did you actually read the whole thing?  Is this even interesting if you aren't going to Louisville or Shepherdsville next week?  I'm hoping that, eventually, if someone Googles Louisville running routes or, oddly, Shepherdsville, KY running routes, they'll end up here.  And it will help.  I like to think that my rambling is more beneficial that piles of community generated content with no commentary at run.com or mapmyrun.com, etc.  Time will tell.  Now it is time to go run somewhere different for a change.  I've been doing the above routes for two months!