Guest post by Ceridwen, a.k.a The Wife
The Nike Women's Marathon
This is probably the largest race I've ever done.  I've run Philly twice, and that is about 20,000 people.  NWM was 22,000, so they're basically comparable.  This fact will become relevant shortly.
Because I do not run marathons as frequently as Keath, we decided to make this one An Occasion.  We flew from Las Vegas to San Francisco for the weekend and shelled out for the Marriott right in Union Square.  The flights actually cost us $1.91 because I gave up my seat on an overbooked flight a few months ago and received a $400 voucher.  On top of that, our flights were upgraded.  Free first class!  Hard to think of a better way to travel for a special event.  Especially on the way home when I got to drink wine from a real glass!  Oh, Delta, I love you.
We arrived at our hotel with no hitches.  We were on the 22 floor, which gave us this view:
After dropping our bags, we headed to packet pick up.  I wanted to get there as early as possible to avoid crowds.  We only stood in line for a minute or two.  The actual packet pick up went very smoothly.  The volunteer scanned my bib to attach it to my name, handed  me a bag and sent me on my way.  That's where the Expotique lost its allure.  At big races, I'm used to big expos, and they can be fun.  Lots of vendors and free samples.  But NWM is a corporate marathon and the sponsors pay for exclusivity.  There was a make-over station, a shoe (not running shoe) boutique offering free foot massages and a skin consultation station, and that was about it.  The lines for these were quite large, and I'm not really girly enough to want to get my hair did as part of a marathon.  We did find some free chocolate and snacks outside the tent, and then we headed back to the hotel.
After finding my name (spelled right, even) on the NikeTown wall, I spent the afternoon watching bad TV, taking a bath (with Lush products my wonderful husband brought me!) and preparing my bag for the race and my gear check bag.
I ate the bland food I had brought with me and fell asleep at 8pm.  I slept like the dead for 9 hours!  Woohoo!  Everything was going so well!  (Please note the foreshadowing.)
Fast forward to Sunday morning.  Race day.  I ate my breakfast, strapped on all my gear and we headed out the door to get to my red start corral for those of us expecting to run a 9-11:59 pace.
Here begins my only problem with how this race was run: the start line was a mess.  We got there fairly early, even after having to go back to the hotel to get the gear check bag I had forgotten.  We went to check the bag and were greeted with lines of people.  It became clear that people weren't lined up at the right buses, so we dodged around until we found a staffed bus and dropped off the bag.  They gave me a sticker to put on my bib so I knew where to look at the finish line.  Perfectly reasonable.  By the time we headed back towards the start line, the crowd had grown so much that we could barely move.  The start corrals ran into the bathroom line and people were trying to push through to get to bag check.  No one could move, everyone was getting jostled and to top it off, the signs for the corrals weren't pointing very clearly.  I managed to get close to the sign for my corral and called it a day.
What's truly hilarious is that they made a huge deal about wearing your starting corral wristband.  Apparently, you needed it to get into the corrals.  In reality, there really weren't corrals, just masses of people on the streets and sidewalks.  Keath, who obviously had no wristband, couldn't get out of the corral area.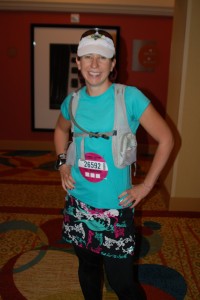 Here's where my experience with the Philly marathon of comparable size comes in.
I know that start corrals that have people arranged by pace can work with very little confusion.  Philly uses a wave start based on expected pace, too.  The difference is, they line everyone up in a straight line down the Ben Franklin Parkway and they use barricades to keep the corrals, well, corralled.  That might have helped.  As it turned out, I was in the 9-11:59 corral and they had volunteers hold us back until the corral ahead of us went.  The problem was that two corrals had merged ahead of us, mixing the 8 minute group with the 12+ group.  The pacers for 11:10 and 9:40 were right next to each other and not in the 9-11:59 corral where they should have been, because after 6:40 am (20 minutes pre-start gun), no one could get out of anyone's way until the race started.    Once the race started, the people in my corral (myself included) started streaming around the volunteer line in front of us so we didn't lose the pacers.  It was a mess.  Moving the corrals so they're in a straight line is really the only way to alleviate this other than cutting down the number of runners.   There were many runners carrying their gear check bags because there was no way for them to get to the gear check buses before the start.   People were honestly trying to make way for those trying to get across to gear check, but there was nowhere to go.  Now, I'm a stickler for arriving early.  To me, getting somewhere on time is late.  But even I was shocked at how impossible it was to get anywhere, even when people were a half hour early, so I actually had sympathy for folks who couldn't get to gear check after 6:30.  I was about an hour early and it was tight.  Moving the start line to the Embarcadero might help, if only because it's a huge, straight street, much like the Ben Franklin Parkway.   Like I said, this was the only hitch, but it was a rather big one.
The rest of the race was great!  Well signed, a bunch of aid stations, very nice finish line, complete with hot firemen in tuxes.  It seems they've solved their previous problem of people taking more than one necklace by scanning a barcode on your bib to ensure that you passed all the checkpoints and hadn't already received one.  Because this is a huge race for TNT, the cheering on the course is awesome, and there is plenty of support and cheering for us slow people.  It's nice to not feel like you're ignored because you're slow. The finish line was great.  The red carpet and stacks of necklaces was very cool.  And they had a changing tent!  I mean, it was one big room, but at least it kept the crowd from seeing your naked bits.
In short, I'd say this is a great race, worth doing if you want a destination race.  The course really takes advantage of SF, which is a beautiful city.  Much of the race is in parks, so that's obviously a plus, and there are miles of views of Alcatraz, the Golden Gate Bridge and the ocean.  It's a blast, and if they figure out their start line problems, it will be even better.  It is a huge corporate race, so there is a high level of commercialism, but it's still a good time.
My NWM
Let's say this did not go as planned.  It started out wonderfully.  I started out just over pace (intentionally starting slow) for a 5:10.  I took my walk breaks.  I ate the same nutrition I had been training on for months and at the same intervals.  I skipped the Gatorade because I hadn't been training with it.  I took my inhaler 20 minutes before the start. In short, I did everything right.  I didn't start out too fast and I didn't let the excitement knock me off pace.    And yet… and yet….
At mile 8, I started to realize something was wrong.  I felt very shaky and like my pace was falling, despite my effort level rising.  I used  my inhaler, hoping that would help.  It didn't.  Three miles later, at mile 11, I knew something was very wrong.  I couldn't breathe.  My lungs felt constricted and so did my throat.  It felt like nothing so much as anaphylaxis (which I get from bee stings) but I had no stings.  I started taking longer walk breaks, and this constant changing started to give me awful cramping in my abdomen.  That, along with my shallow breathing, made something terrible happen to my chest and diaphragm.  It felt like my diaphragm was spasming.  NOT FUN. (I later found out that there was a bunch of juniper pollen in the air, which I am very allergic to.)
When the half marathoners split off shortly after mile 11, I nearly cried.  I really wanted to go with them.  Instead, I kept on.  I was passed by a car that I believed to be the sweep vehicle.  A man was yelling out of it that we had 15 miles to catch him, but we had to catch him to get an official time.  Then I did cry.  While running on an out and back section, so plenty of people were looking at me.  Awesome.  Then I took as deep a breath as I could and pushed on, filled with new determination to catch that goddamn car.  I was talking to myself, which I'm sure amused those near me. I dug out the card Keath had given me the night before.  On it was the phrase, "Mental Fucking Fortitude" which I used previously to get myself through a tough workout.  I held it in my hand for the remaining 15 miles.  Mental fucking fortitude, indeed.  When I couldn't breathe and told myself it would be better to quit, I squeezed the paper.
By the time I saw Keath around mile 14, I knew I wasn't going to get the car.  It was nowhere in sight.  Keath had seen me deteriorate as he was biking to keep ahead of me and then cheer me on.  He knew something was wrong at mile 11 and his cheering had turned to sympathetic support and walking stretches with me.  I told him I was never going to catch that car, and he told me it wasn't for me.  It wasn't the sweep vehicle.  It was the pace car for the early starters.  Saved!  I could still finish!  Buoyed somewhat, I kept on with my run/walking.  My breathing was not getting better.
Finally, around mile 18, along the out part of the out and back out the Great Highway, I asked Keath to lock the bike and walk with me.  I just didn't feel I could make it on my own.  He did, and though I didn't talk much (too busy trying to breathe) it was good to have him there.  My breathing had moved into a vicious cycle.  I would have an asthma attack, and then I would panic, which would impair my breathing even more.  Even though Keath is a very hyper person, he has a calming effect on me and soon I was just having the asthma attacks without the panic.  I kept stopping and bending over to try to get more oxygen, and several TNT coaches offered help, which I thought was very nice.  In fact, everyone who stopped to make sure I was ok was with TNT.  (The only reason I mention this is that I've read some bad things about some TNT groups in other races being not very nice to other runners, but I have nothing but nice things to say.)  Every time we passed a medical tent, I argued with myself about going in.  I knew that if I went into one with a history of asthma and breathing problems, my race would be over.  They (rightfully) wouldn't let me continue.  So I put on a brave, non-wheezy face every time I passed one.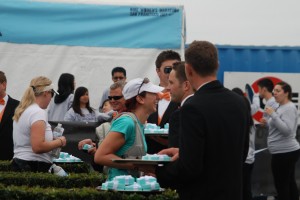 Having Keath with me is really the only reason I was able to finish.  He got me through the worst miles and I was not turned around at mile 19, which was a huge relief.  At mile 23, I picked it up and started to actually toss some jogging into my forward motion.  Keath retrieved the bike and passed me while he went to the finish line.   At this point, my morale picked up.  I would finish.  I would get my necklace, I hoped.  There was some confusion there, as the website said you had to finish by 1:30 pm, which was 6 hours and 30 minutes from gun time.  I was 22 minutes behind gun time.  The back of our bibs said that if your chip time was under 6:30, you would receive your necklace.  The suspense was killing me when I crossed the line at 6:32 gun time.  I got to the scanner, the moment of truth.  It made a happy beep and my cute firefighter said, "It scanned, you get a necklace." Wahoooooooooooooo!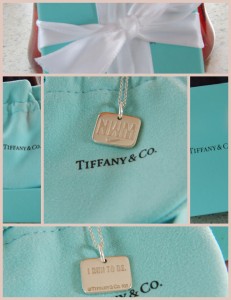 Our friends, Megan and Vin had come to the finish line to cheer.  I had heard people saying my name as I ran to the finish, but I was so focused I didn't really look around.  Right after the finish line, I saw Vin running alongside the corral, screaming my name.  I burst out laughing.  It was great.  After getting my necklace, I hugged everyone over the barricade and went to get my t-shirt.  That's my only other complaint: I ordered a medium and they only had XS and Large left.  So they weren't checking sizes that went out, which sucks for us slow people.  I got an XS because I really dislike large workout clothes.  It's a bit snug, but that's ok.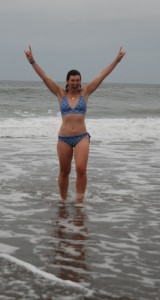 After the race, we hung out with Megan and Vin for awhile, even diving into the ocean.  It was great to have some extra supporters there.  I think if it had just been Keath and I, I might have wallowed in some self pity, but it's impossible to be anything but happy when they're around.  We didn't get spend too much time together because we all had plans for later, but it was great nonetheless.
I am at peace with this race.  I gave it all I had, and I finished, and I got my necklace.  And now I'm retiring from the distance.  I just don't enjoy it enough to warrant all the injuries I get once my long runs reach 15 or so miles, and it takes me for-freaking-ever to finish. I will stick with half and below and enjoy the journey.  As a t-shirt I saw at NWM said, "Half the distance, twice the fun."  Yup.
Video!
At the end you can see me waving at Vin.
[media id=2 width=590 height=440]
Cookies!
Check out these sweet cookies that Keath custom ordered from my high school friend, Juliana: