Honestly; I had no clue until I found out about this race last year.  I was hoping to run the inaugural race, but wasn't in the area1, but this year when my wife and I decided that we definitely wanted to be out of Washington before September, I shifted my fall marathon search east and south a bit and rediscovered Layton2.

It worked out after my marathon hiatus that whatever I ran next would be my tenth marathon.  Ten seems like an important number, so I sought out a potential PR course (passing up a few really interesting looking trail marathons and this-course-will-kill-you-but-it's-worth-it  options) far enough in the distance to focus sufficient time to some serious training.
And so back in May I signed up for the Layton Marathon and started an 18 week training plan on June 6.  Our route was plotted from Concrete, Washington, across the Idaho panhandle, in to Montana, back down in to (what would you call it – "mainland"?) Idaho, and on to the Great Salt Lake.  We're staying in North Salt Lake, a suburb north of SLC but just a bit south of Layton.  In short, close enough not to need that hotel room I booked back in May, but not quite walking distance to the start line.  Or rather the buses to the start line.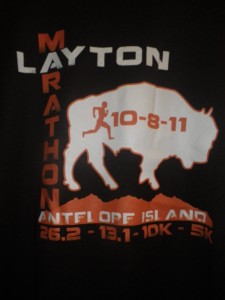 Layton is a one-way course, starting out on Antelope Island, out in the middle of the Salt Lake, running along the shoreline for ten miles, before crossing Farmington Bay along seven miles of causeway.  When we make landfall, there's a little bit of zig-zagging through what I think might technically be Syracuse, UT before finishing up in Layton.  Thanks to the big right hand turn to cross the lake and a little bit of a southward hook at the end, the course doubles back on itself enough to have gotten certified as World Record3 eligible as well as Boston and Olympic Qualifying4, something they are quite proud of as the only marathon in Utah to qualify for all three standards.  Personally, I've got little to no5 chance of hitting these goals, but is shows a certain level of professionalism and pride in their event that is so often lost on most for-profit marathons.  Especially those that focus so much on a scenic course – I'd imagine it's relatively easy to plot a course that meets international qualifying standards if you don't care what your runners are looking at or how it disrupts traffic in your town, but Layton seems to have accomplished a very scenic course with an honestly "flat and fast" profile while scoring an elite field and international qualifying standards.  Mad props to the race director and his/her posse.
I'm not going to lie.  The scenic course was certainly a factor in choosing this race.  It's a place where professional photographers go for PhotoWalks6 and one of the most overlooked scenic areas in the country.  I was worried that my desire to carry a camera on the course would sabotage all the training I've done and my hopes of striving for a PR.  The overcast forecast has helped greatly to ease my need to leave the camera at home (or with my wife) and focus on running my best race.
The race organizers have been really good at keeping lines of communication open.  They're very interactive on their Facebook page, asking for runners' opinions on different medal and t-shirt designs, and other decisions of that type that are normally made in a vacuum.  This is a great new trend I've seen lately on small to medium sized races, and I'm really liking it.  It makes the whole thing more democratic and while they still can't please everyone all the time, hopefully the transparency will allow people to see how the decisions are reached and not let something stupid like a dislike for the t-shirt color reduce their enjoyment of the race.  There have also been a great number of e-mails (informative and helpful, not trying to sell me random add-on!) with updated info, reminders, and last minute essentials.  Such as the fact that the unexpected rains all week, while not creating a soggy race, have created a soggy, soggy parking field, so we might be redirected to nearby school parking lots.  Duly noted.
So long story short7, I'm really looking forward to this race.  They're still pretty small, so the Expo was one meeting room at a Courtyard Marriott.  With the exception of the very lost couple in front of me who couldn't seem to follow the order of operations that was set out very clearly for everyone to follow, things went smoothly.  Confirm your bib number, get some flyers, get a bib, get a shirt, rock on.  Sponsors and vendor tables were minimal and non-intrusive.  Verizon Wireless was giving out what they claimed were bandanas but turned out to be Buff ripoffs (or maybe real Buffs8) which was pretty snazzy – Expo swag I'll actually use!  There was a triathlon training team looking for members, a t-shirt shop, and some sort of photo booth thing that I didn't explore.  Someone must have been running late, because the "info table" was abandoned, and the "guy who knows things" was manning the shirt table solo, which caused a backup due to people who needed info.  Otherwise, pretty smooth.
The one thing that drives me crazy, though, is when races just post your bib number and don't have a volunteer confirm it before giving you your bib/chip.  A 5k I did in Jacksonville9 a couple of years ago did that and it was absolute chaos.  My wife and I accidentally mixed up our unmarked chips, so I inadvertently stole the third place women overall prize from it's deserving recipient10  On top of this, someone unknown to us claimed my father-in-law's bib11 (he wasn't able to join us) and set him a PR and age group course record.  And that's just the incidents that directly affected people I know.  Anyway, I hope nothing like that happens here12, but it's a frickin' recipe for disaster that race directors really need to find a way around.  There's no reason why the people with the bibs and chips can't have copies of the participant lists as well.
Alright.  That's enough ranting.  Minor stuff.  Hopefully.  Overall, a good experience so far.  Still looking forward to 4 AM and a nice brisk jog over Salt Lake.