Oh.  Hell.  Yes.1
Yeah, I ran another half marathon today2.  And, yeah, I PRed again.  It feels awesome.  But enough about me . . .(for now).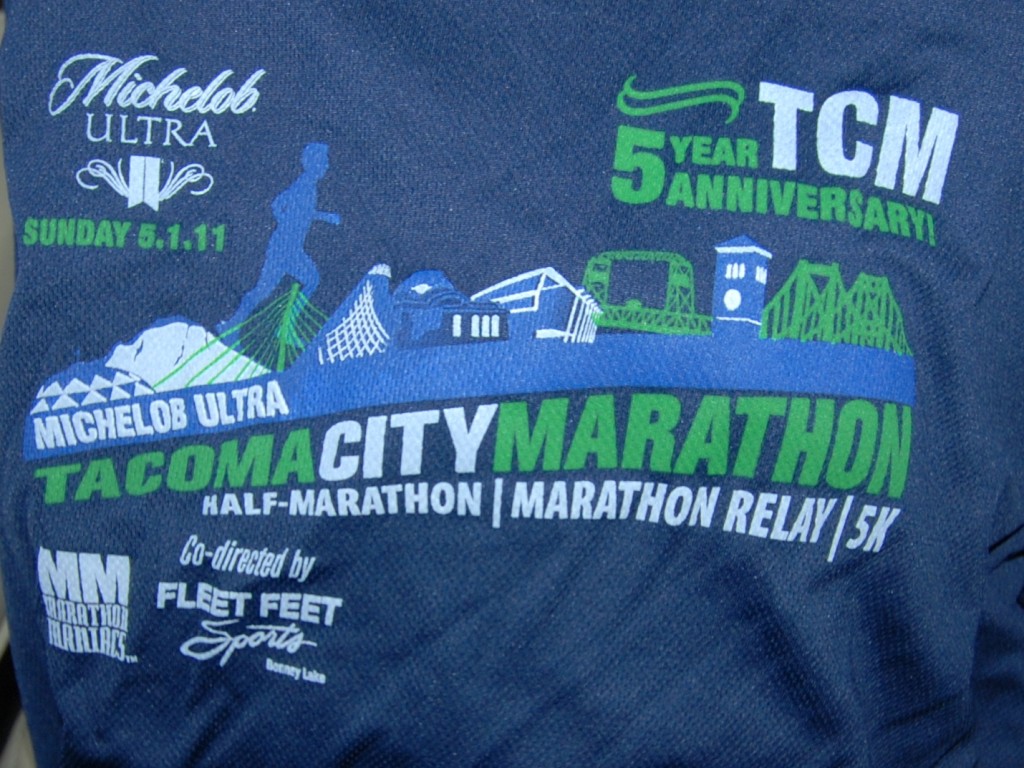 The Race
The Tacoma City Marathon is one of a series of races put on throughout the year by the Tacoma City Marathon Association3. Obviously, it's their headliner event, and as you might have guess by my participation in the half distance, it also includes a half marathon.  They also include a 5k (which my wife ran – and did an awesome job at!) and space out the starting times so that there's very little downtime at the start/finish.
The event was, for the most part, very well managed, and was very enjoyable once we set aside our preconceived notions and took it for what it is.  For reasons unknown, both my wife and I had assumed it was a pretty big event – maybe just a bit smaller than the Philadelphia Marathon.  Yesterday, as soon as we found the little boutique hotel behind the convention center and came across the one-room expo, we realized our folly.  Tacoma is small.  And the Tacoma Marathon is the smallest "big city" event we've been to.  (Oddly enough, the two prior "small" city races were also this weekend; we ran Louisville last year, which is actually pretty big as an event, though most people run the Mini Marathon (half), and Eugene in 2009.)
Expectations adjusted, we grabbed our bibs and did a quick tour of the dozen or so tables – grabbed some fliers for events that might work out with our schedule, ate some cake provided by the awesome South South Triathletes training group4, and headed out.
This morning we left with a nice lazy start for the leisurely 8:00 start time5, paid for the exorbitant parking6, and moseyed on over to the start line to watch the marathon start.  The announcer was a bit hard to hear, but I'd later learn that everything was crystal clear within the corral, so no foul there.
A local girl scout troop ran the gear check – and kudos to them for a very well organized and efficient process.  My MC Frontalot button fell off my bag, which is a bummer, but really, I blame myself for leaving it on there and put no fault in the volunteers, especially those under the age of 12.
The three races all start and end at the same point, and run the same course for the first two miles or so.  The 5k runners then get to go back to where they started, along a nice tight loop with no major hills.  The marathon and half marathon continues to zig and zag through town, even cutting through an alley between two buildings a one point, which was kind of weird, before finally coming out to run along the waterfront around mile 7.  (Around mile 5, a woman who passed me7 commented on the lack of waterfront and bizarreness of the alley – at first glance the course map looks like a majority is along the water, but closer inspection reveals that not to be the case.)
Just past mile 9 the half marathoners get to turn around and head back from whence we came.  (On the "other" side of the one lane that is blocked off for the race.  It's that small a race.)  I was able to count how many people were ahead of me (21 at the time) and kept that position up until the guy checking people off and announcing your position around mile 10.  The marathon course continued along the water up to Point Defiance State Park, which brings them out to what I think is the northernmost point of the peninsula that is Tacoma jutting out in to the Sound before heading south along the west side of town.  The only downside of the full marathon loop is that the last four or so miles run alongside route 16 before they return to downtown.  Which is certainly not fun to breathe, whether you're pushing for your best time ever, struggling just to finish, or anywhere in between.
The return to town for the half marathon was pretty cool; the crowds that had thinned out along the course were a little more packed together, and even before you got to the finish line you can hear the announcer echoing through the street.  But to get there, you first need to climb up three blocks of downtown Tacoma's hills.  (About 200 feet in two tenths of a mile.)  The top of the hill is the twelve mile marker, and, as they say, it's all downhill from there.
This is also apparently a very good race to volunteer at.  There were volunteers at just about every corner or decision point, plenty of water station crew, and some volunteers just out along the course making sure all was going well.  They all did a great job, were encouraging and enthusiastic, and looked like they might have just been having fun while doing it – go figure!  And they all got some pretty nice looking embroidered hooded jackets.  Snazzy!
On that note, my apologies to the girl at the water station around mile 8.25/10.25 whom I almost ran over.  Really.  Sorry.  Totally my bad.  I think.
And did I mention the best half marathon medals, ever?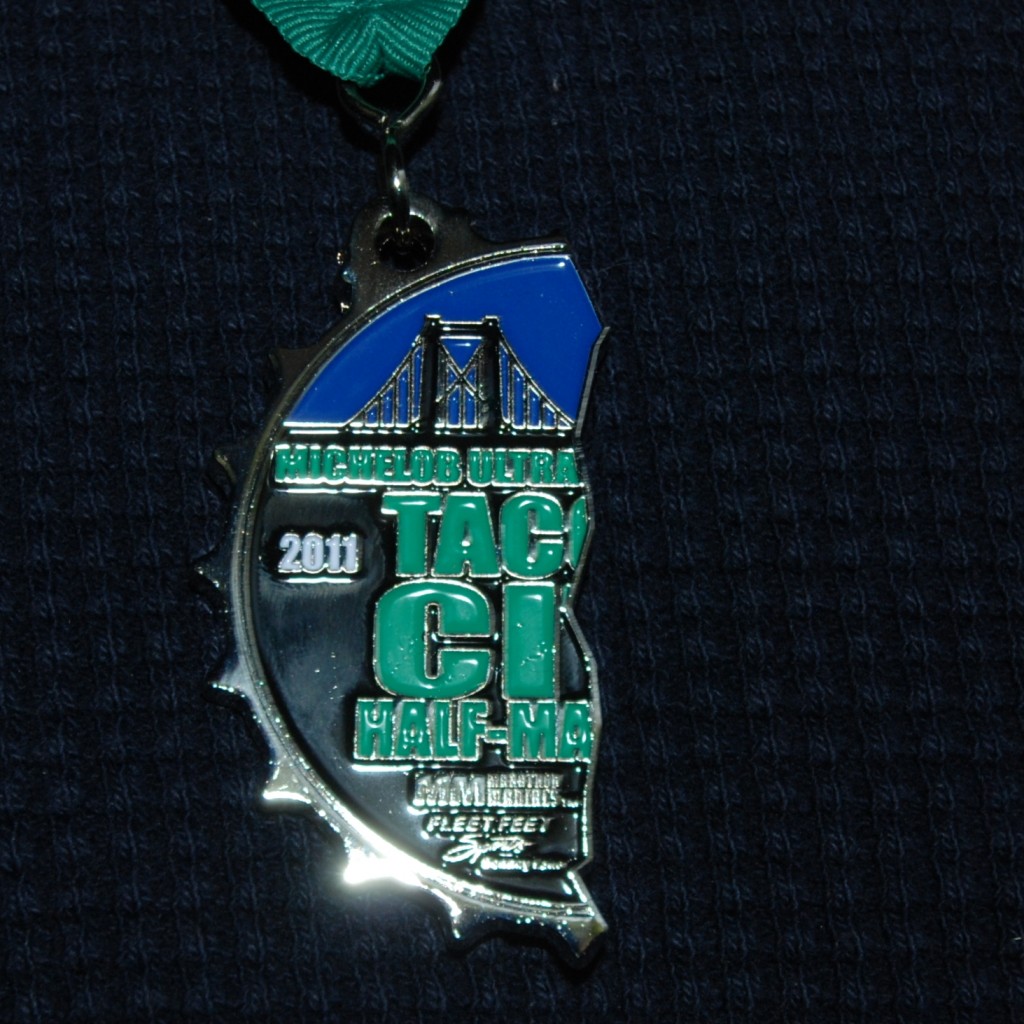 Post race, there was a good selection of food – bagels, pizza, fruit, chips, chocolate milk, and probably more that I didn't notice – set up in a reasonable manner for the number of people to get what they needed without chaos.  Results were updated to a half dozen computers every 15 minutes or so, so you can type in your bib number and see how you did.  Brilliantly, if you won something in your age group, you then went over to the awards table to claim your prize.  Only the overall open and masters winners got formal announcements and fancy plaques and trophies.  Which is how is should be. Nobody wants to stand around while you personally congratulate 30% of the field.
So, yeah, smaller than we expected, a little weird choice of course routing around downtown and along a highway, but overall, very well run, very enjoyable, and a beautiful day for running.  In fact, at the start line, the announcer even pointed out that this is the best weather they've had in the five years they've been doing the race, so it's "perfect weather to PR."  Which brings me to…
My Race
Over the last couple of days I was seriously doubting having signed up for this.  Maybe I should have done the Rainier Duathlon.  Maybe I should have done the full.  Maybe I should have stayed in bed and contemplated the mysteries of the universe while icing my old man bits.
But after making some pretty good progress on my half marathon goal back in Pasa Robles, I'd signed up for Tacoma.  And I was able to subdue my old man pains with yoga and sheer force of will.  So off I went.
My wife – a brilliant woman – had pointed out that since she was not allowed to ride her bike along side me yelling at me to go faster then maybe I should set my watch to yell at me.  Something that had simply never occurred to me.  Wow.  Duh.  It seems so obvious, but I'd never tried it.
Quick version of the how-to (for a Garmin 405); set up your profile in GTC so that one of the pace ranges has your target pace as the slow point and maybe 20-30 seconds faster as the fast point.  Set up a workout to go your race distance with that as the target pace.  (I set mine up to be 13 repeats of a one mile segment, so I could still get mile splits, followed by a .1 mile segment.)  Be sure to include a "cool down" segment in case the GPS thinks you're done before you reach the finish line.  And then BAM; if you go too slow (or too fast), your wrist will start audibly complaining.
My biggest concern was that someone else running near me would get irritated by my "encouragement," but I was hoping that would encourage me to keep in the zone.  I didn't get so much as a dirty look, even though I ran nearly the entire first mile too fast.  Things thinned out after that, so even on the hills where I slowed down a bit, there weren't many people to complain.  Though the spectators may have wondered why I was whining to my wrist that I was trying…
My pace was far from steady, but given the hills I'm not too concerned.  But my range of splits were far better than in Great Bay or Wine Country; only 42 seconds between my slowest (7:12, mile 128) and fastest (6:30, mile 1), compared to 62 seconds in Paso Robles and 100 seconds the night before.  Good progress!
And the watch helped.  Although it beeped at me a lot, I kept trying to respond by picking up the pace.  Five miles were slower than my 7 minute mile pace goal, but aside from mile 12, they weren't that far off (7:09, 7:02 twice, and 7:03).
One guy passed me shortly after I was informed that I was in 22nd place, but I kept him in sight for the last 5k, which probably helped keep me going.  Even though I never caught him, the idea that I might be able to was great.  The 20th and 21st runners, way ahead of us, were long since out of sight.  I pushed harder up the hill then he did, so while I closed up some space, he took it right back on the downhill.  I made up some ground, but not enough.  He and I apparently managed to catch two other runners, so he ended up finishing 20th, with 21st for me.
All told, I came in to the finish chute as the announcer was letting everyone know that "anything faster than 1:30 is a really great time!" . . . as the clock ticked over to 1:30.  I hope he knew I was kidding when I told him that I hate him.  So 1:30:01 or so on the gun time, but the computer says my chip time was 1:29:56.
Did you see that?
1:29:56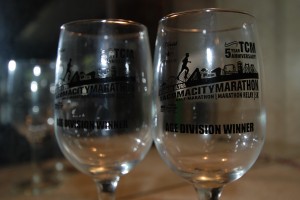 Yeah.  Me.  Sub-1:30.  That's a PR by three minutes and twenty-nine seconds, and exceeds my goal by two minutes and thirty-two seconds.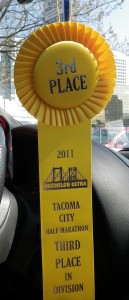 And it was good enough for third in my age group, which won me a fancy county fair style ribbon and . . . wine glasses.  Neat!