Seven days later, 3,176 miles southwest, and about 10° colder at the start line . . . I take another crack at my 90 minute half marathon goal.  I fail, but still set a PR by three minutes, which ain't too shabby.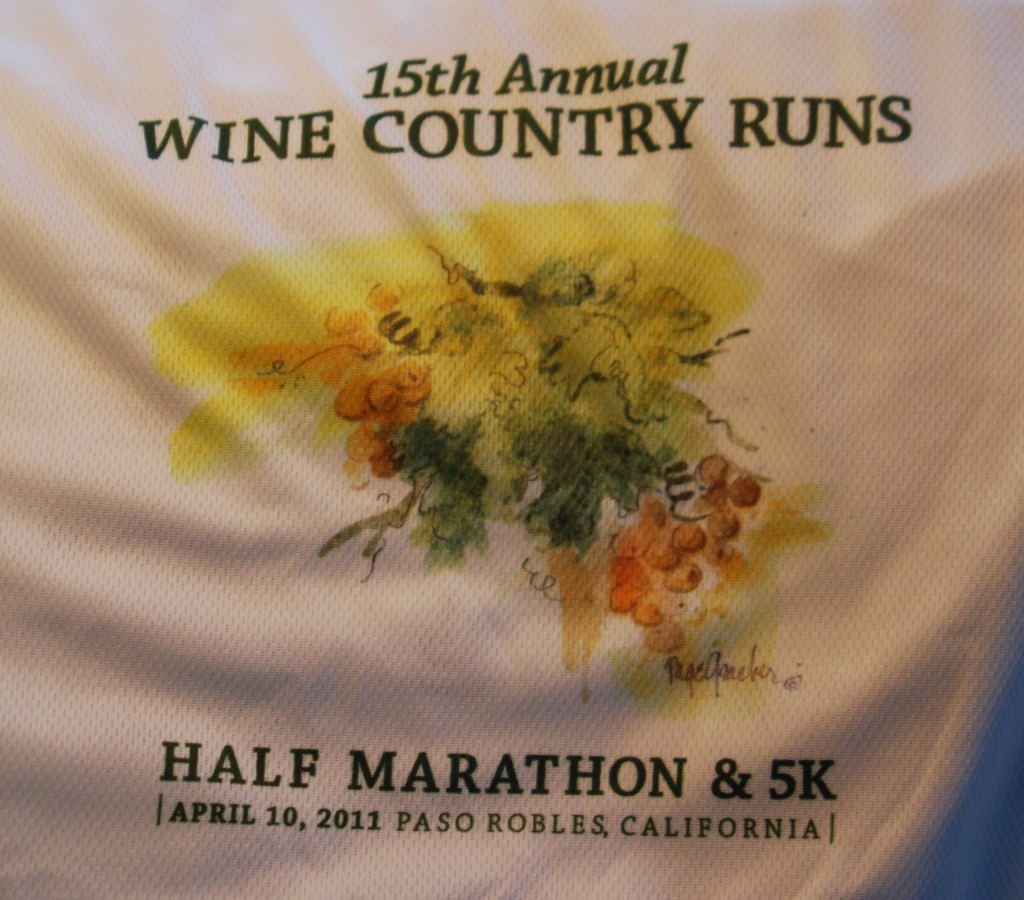 The Wine Country Half Marathon and 5k in Paso Robles (or, according to their sign on the highway, El Paso De Robles, the Passage of Oaks) fell in perfectly with our plan to take the long haul from Santa Paula to Pleasanton and break it in to two short days.  We got in to Paso Robles yesterday afternoon, popped over to packet pickup, went for a swim, soaked in the hot tub, and wandered around a bit in the beautiful weather before a somewhat early night in preparation for the threatened 34° start time forecast and overnight frost warning.
As luck would have it, though the car was covered in enough frost to actually have depth, the temperature was 39° at the half marathon start (8:00) and raised a little faster than forecast, making for an awesome run (though the chilly mist limited the awesome views to about 100 yards).
What They Did Right
For the most part, this race was very well run.  The core of it all is really the awesome course through, well, as you might imagine, wine country.  Specifically, the San Louis Obisbo County flavored wine country in Paso Robles.  As with last week's race in New Hampshire, the roads are rural enough not to need to be closed off – they warned motorists simply by scattering surprisingly cheerful volunteers (given the temperature) along the course with little yellow signs indicating "runners in road."  In contrast to the NH woods and bay, we enjoyed views of vineyards, orchards, farms, ranches, and several cryptic signs marked "IGGPRA"1 along a beautiful rolling loop course far away from the rest of the world.
Granted, running past ranches meant we caught a couple of lungsfull of horse and/or cow manure and the 5k course had to cut across an open field of mud near the end, but I'd take either or both of these over a busy city course full of car exhausts and frustrated drivers any day.
Though the entire course was hills, with the exception of one final ascent that the mapmyrun profile didn't know about, there's only a 34 foot difference between the course's highest point and lowest point.  The final ascent, by the way, was snuck in at mile 12.8 or so, as we returned to the country club type place that hosted the start/finish, and boldly marked with "Welcome to Expletive Hill," which is pretty much the perfect name for it.  Just as you think you're coming up to a gentle cruise in to the finish you come around the bend and see a hundred foot gain over the next thirty yards or so.  Then you can frolic across the field and turn for the final paved finish.  Very cruel.  Very cool.  Very fun.
Though I apparently misread the website and was expecting Gu when there was none, there were more than enough (5) aid stations along the course, each offering water and gatorade by enthusiastic volunteers that were easily able to handle the volume in my neck of the race.  There may have been some areas where runner volume exceeded volunteer capacity, especially when some of the faster runners caught up with the mid-pack race-walkers (who started 45 minutes earlier), but I seriously doubt anyone was at a loss for hydration.
The mix of race-walkers (or anyone who considered themselves slow enough to want to start earlier, I think) and runners was a bit disconcerting at first, but I quickly grew to enjoy it.  I had no idea how many people were ahead of me, but in a race with a smaller field like this it's nice to have other people around rather than, oh, say, the fading blur of someone a half mile ahead of you and the vague idea that you're being followed on a lonely country road.
Post race "festivities" included a local DJ playing a mix of good, decent, and terrible pop music spanning more decades than anyone should have to think about and breakfast burritos, coffee, and OJ on top of the typical assortment of fruit.  The burritos were pretty bland compared to the ones they have at races I did in Austin, TX when I first started running, but it was a welcome treat and much better than the usual stale bagels or cookies.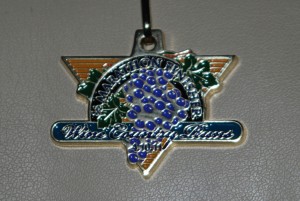 Swag-wise, the finisher medals were small, but very nice for what is essentially a local race without any huge corporate sponsors.  The age group awards were a nice change of pace from other races, taking the race logo (a watercolor by a local painter) and applying it to a tile, which I presume can be used as a coaster for wine and other beverages.
One of the more innovative features of this race is that the first male and female finisher for the half wins their weight in wine.  And they don't do this with any behind-the-scenes "so, uh, how much do you weigh, ma'am?" kind of deals.  They put the winner on one side of a big ol' seesaw and load up the other side with cases of 2004 Syrah.  Alas, we did not have time to stick around for this ceremony, which brings us to . . .
What They Did Wrong
Or, at least, what they could have done better.  I'll keep this list short and sweet, because I don't want to taint my enjoyment of the event.
Packet pick-up at three different stations; one table featuring four volunteers checking names but then having to fish through one box for your bib, to pass you off to the timing company to scan your timing chip and link it to your bib, and finally off to get a t-shirt and bag of fliers from another group of volunteers with another set of name lists.  Which wouldn't be such a big deal if the tables were sequential or at least not requiring people to double back from whence they came across other participants.  Ladies and gentlemen, there is a reason why "big" races have separate lines for people based on last name and/or  bib number – which would have been easy to organize given the fact that at this race the bib numbers are assigned by last name!
If you are having people park in a wide open field, you need at least a volunteer or two to prevent people from blocking one another in.  The people coordinating parking on race morning were awesome.  If there were people coordinating parking at packet pickup on Saturday, they were MIA.
The 5k route was run backwards!  While this may not be a big deal for some people, and obviously didn't affect me, when you post a course route and profile on your web site, you need to stick relatively close to it, especially the direction!  It's not just elites who plan a race strategy based on the course.
People shouldn't have to wait around for hours to get age group awards.  That's called holding people hostage.  It was exciting to be fast enough in a small enough field to place, but I was waiting for the award almost as long as I was on the course.  Yes, it's very nice to want to wait for everyone to finish before the awards.  And it's lovely to split a small crowd up in to small age groups so that you can give awards to as many people as possible.  But you don't need to announce everyone – especially if there's no presentation – and there's certainly no need to wait until three hours after the starting gun.  That's almost as annoying as spending two hours drawing door prizes at a 5k.  You announce the overall winners.  Maybe make a big to-do for the under-14 finishers and any octogenarian awesomeness.  But the rest of us can check a piece of paper to see if we won anything and be happy with the recognition without a microphone and waiting around in cold, wet clothes2.
What I Did Wrong
Mostly, I'm just not there yet.  I definitely need to improve my speedwork.  I can tell it's helping, but I still have further to go.  I'm not able to hold a strong pace for a full 13 miles yet, but I did a lot better on the gentle rolling hills of California than on the roller coaster baby mountains of New Hampshire.  Today, only 62 seconds separated my fastest mile (one, 6:37) from my slowest (twelve, 7:39)3.
But, while I'm getting closer to consistent, I'm also consistently running my first mile "too fast."  If I could hang on to sub-7 miles the whole way, that'd be one thing, but aside from a nine mile training run I whipped out a few weeks ago I don't think I've run further than a 10k at a sub-7 average since the NorCal 10 miler two years ago.
Argh.  Setting realistic goals is so frustrating!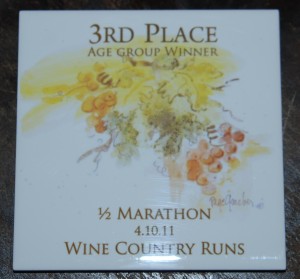 I'm taking heart in running two halves seven days apart and setting a PR on both of them, improving my half time 3:30 since December, and not feeling like I'm wiped out twelve hours after the race.  (Though that last part may have more to do with not getting on a plane three hours post-race this time around.)  My current decision is whether to try for a 90 minute half one more time at the Tacoma City Half or to try something new and different at the Mount Rainier Duathlon.  Guess I ought to decide soon…
One of which I finally got close enough to learn stands for Independent Grape Growers Paso Robles Area. ↩
Which, incidentally, is exactly what they did in New Hampshire last weekend, which I hereby declare is the awesomest way to do things!  Recognition without hostages! ↩
Compared with 100 seconds last week, mile one at 6:24 versus mile ten at 8:04. ↩