I almost didn't register for this race.  It fell on the last day of the last leg1 of our late-March visit to the east coast, and the late start time versus the amount of time necessary to fly from MHT to LAX had me doubting the intelligence involved.  But in the end, we found a decent evening connection through ATL which allowed for a not-too-rushed departure from the Great Bay Half Marathon in Newmarket this past Sunday2
And I'm very glad we did the race.  It's pretty much awesome.  ("We," for the record, include not only my wife, but her parents as well!)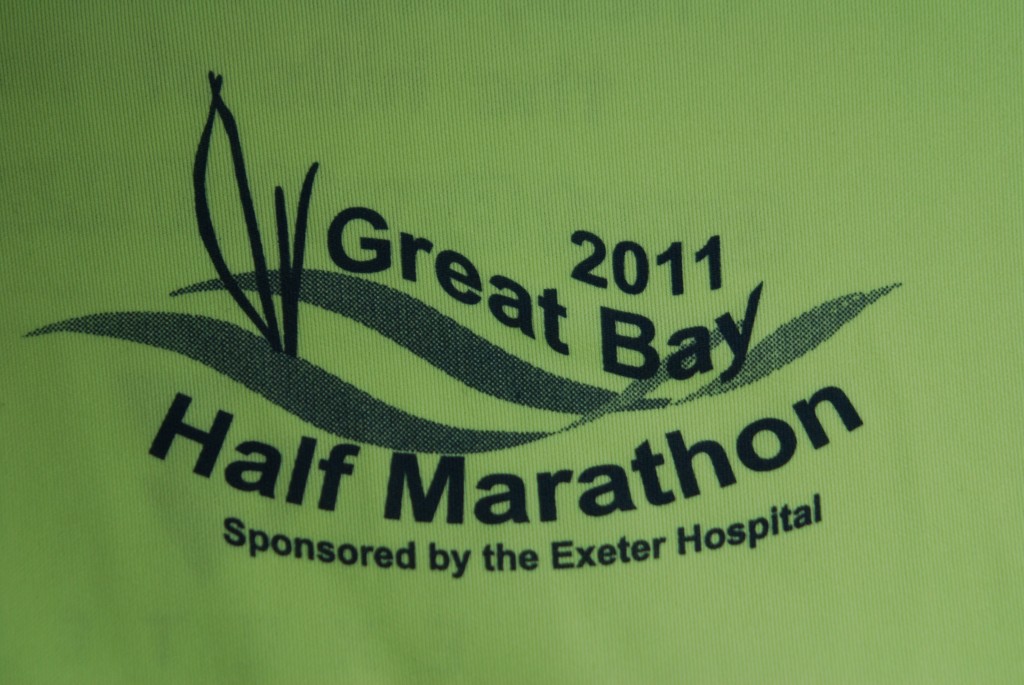 The Race
There's just something awesome about races in New Hampshire.  Like the New Hampshire Marathon around Newfound Lake that I did towards the end of 2009, the packet pickup was in the gym of the local high school.  No big expo center full of companies hawking junk you don't need.  Just a table for race day registration, a table to pick up 5k packets, and a table to pick up half marathon packets.  Oh, and shirts from prior years' races available for sale.  Which isn't nearly as offensive.
The course itself starts out along Main Street (yes, literally) before a short loop through a neighborhood just north of downtown.  Just shy of the 2.5 mile mark, the 5k turns off and makes it's way back to town while the half marathoners head out for a longer loop along Dame Road, which is only a paved road for the first bit.  We made our way through the hills, past places like "Stagecoach Farms Open Space," "Schultz Place Open Space," and "Willey Land," until reaching Bay Road just shy of mile 6.  At this point, as the name might imply, the course turns back towards town along Great Bay.
And no, the return along  Great Bay isn't "the scenic part."  The whole race is the scenic part.  Even through town, it's a beautiful old New England town – there's no diversion through the industrial sector to keep the main roads open, no cutting through the "bad neighborhood" to avoid upsetting the rich people with runners near their lawns.  A, because Newmarket doesn't have an industrial sector or bad neighborhood, and B, because aside from main street, no roads are closed.  They manage the whole thing with little more than a warning to drivers that there might be some delays due to runners on the road.  Very well done.
The course has several musicians performing along the course, but instead of the boring old generic rock bands you get at most races-with-music-in, we had awesome music from a cello and violin duo, a couple of acoustic guitarists, and my personal favorite – a guy playing a washboard and percussion half way up "the hill" just past mile 7.  Complete with mountain man beard and old floppy hat, he was definitely the perfect "only in New Hampshire" moment right when we needed it.
Apparently, the on-course entertainment that Great Bay is known for is really the belly dancers just before – and after – mile 11.  They get the prime spot you pass twice at the end of the out-and-back spur just before returning to town.  (For those of you following along on the map, that's right at the end of Moody Point Open Space.)  This isn't the first time that I've run a race with belly dancers in3, but they were actually really good dancers and I could see how some people would want to ditch their efforts towards a certain time goal and just hang out there for a while.
Coming back in to town is awesome, because after the final downhill return from the belly dancers, it's pretty much a flat sprint to the finish.  While there are little pockets of spectators along the course, the majority are along main street, especially once the 5k is finished and the people spread along the shorter course converge on the finish.  Plus, the race is sponsored in part by Stonyfield Farms and Smuttynose Brewery, so you know that the only thing between you and free yogurt and beer is that finish line.
All in all, this is a great race and I totally understand why my friends in New Hampshire look forward to it every year.  If our travels work out to allow it, it's definitely one I'd do again.
Of course, because it's me, I need to find something to criticize, but know that I'm really nitpicking here to point out that the water stations were using plastic cups.  Gatorade was in paper cups, but water was in plastic.  Which is not only annoying if you're one of those people who likes the pinch-and-tip method over the slow-down-pant-and-sip method of drinking, but also an eco-nerd no-no.  Come on, people.  Plastic?  Still?
My Race
Truth be told, this race snuck up on me.  I was just getting in to putting that extra effort in to my training, having ditched the worthless Active.com program and focused on really doing real speedwork every week, when all of a sudden I'm packing for Philly.  Bam.  Time to taper.  Really?
And yet preparation wasn't my concern.  My concerns were multifold;
11:00 start time. Seriously?  I've run after eating before, but never raced after eating more than a quick bite or two of something.  But 11:00 requires some sort of meal to be had.  We stopped at a diner in Epsom en route to the race where I risked half an omelet.
Snow on Friday.  I packed my tights and a long sleeve shirt, but didn't really think I'd need much more than that.  However, after some brisk morning runs along the Schuylkill in Philly, it became clear that New Hampshire would be getting some pretty serious snowfall on Friday.  I didn't even pack a hat.
Shoes.  I packed my training shoes, a pair of Brooks GTS-9s with about a thousand miles on them and had a pair of K-Swiss Konejo IIs which I'd won in one of last summer's dailymile promos waiting for me in New Jersey, but I didn't really have anything in between 0 and 1000.  I opted for the tried and true Brooks.
Cookies.  Had I mentioned that I ate many of them while at my parents?
But as is so often the case, I had nothing to worry about from that which I'd anticipated.  11:00 start time?  No problem with a 9:00 breakfast full of foods that bind4.  Snow on Friday?  Ha!  More melted on Saturday than fell on Friday, not to mention how little probably fell on the seacoast to begin with.  By 11:00 Sunday it was beautifully warm and dry5 in Newmarket.  And the shoes were no problem at all.  In another 300 miles or so, these GTSs will probably weigh roughly the same as my racing flats.  And while I'm sure I still had some cookie weight going on, I no longer felt like a human cookie.
What I did not anticipate is that despite spending the last two months on the side of a canyon with my running routes amounting to either A, run uphill towards Ojai and then cruise back down or B, run downhill to Santa Paula and then push back up6 I was totally not ready for these hills.  I also didn't remember to look at the course profile prior to the race, so the image I had in my head was the Mount Desert Island Marathon, which is shaped very differently indeed.
While Great Bay is known for it's hills (as the back of their tech shirt proclaims), they're nothing obscenely crazy.  They're just pretty constant and rolling.  I should have had no problem with them.  But they kicked my butt.  I was just completely unprepared.  Inexplicably unprepared in my mind.  By mile four I just had to come to terms with the fact that I would not be able to sustain a sub-7 pace – and as soon as I admitted this to myself it became true.  My brain beat my legs.  Again.  I hate my brain.
I tried to hang on as strong as I could.  I pushed as hard as I felt I could at the time.  It was a beautiful course and a great crowd and I loved every minute of it.  But I just couldn't keep the pace up for the full distance, though I did pick it up a bit for the last couple of miles.
For the curious, my splits were 6:24, 6:47, 6:52, 7:11, 7:29, 7:03, 7:44, 7:54, 8:01, 8:04, 7:19, 7:37, and 7:28 (with a 31 second final tenth).  Don't chart that.  It's a textbook parabola of starting off too fast and holding back more than I should have due to incorrect expectations of the final two miles.
BUT, when all is said and done, I ran a strong race and still set a PR by 40 seconds according to my chip time.  Which is nothing to beat myself up about.
Meanwhile, at the Beyond the Rainbow 5k, my wife and her parents had a great time on a well organized race, and apparently my father in law is now hooked on racing after his first ever race, having already registered for the Earth Day 5k run by the same race organizers.
Post race, in addition to family, I was able to catch up with friends (both from real life and dailymile) from the area who were running or there to cheer before we had to hit to road to catch a quick lunch7 en route to our flight.
Did I mention the PR?  That was nice.