I'm a bit slow on the race report this week.  The Warrior Dash came to Colorado this past weekend, August 20 and 21.  The pattern with Warrior Dash seems to be about 90 minutes outside a major metropolitan area.  In the "Denver metropolitan area," that means Copper Mountain, a ski resort near Breckenridge that's open year round for non-ski activities such as mountain biking, hiking, drinking, and running ridiculous obstacle courses.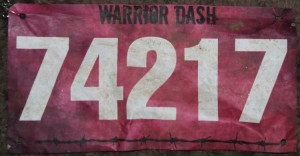 The Warrior Dash is the second of three "mass market" events produced by Red Frog Events1 at assorted and sundry locations across the country.  Unlike the Great Urban Race, which happens in major cities, the Warrior Dash is more remote – specifically choosing areas where they can rip up the landscape for a few miles and create a fun but challenging 3-4 mile race full of reasonably difficult but messy obstacles.
The "Rockies" edition of Warrior Dash had the added fun of starting at a 9800 foot elevation.  According to the local crew scuttlebutt, this was the first time that they held a Warrior Dash at a location with any sort of infrastructure, which is certainly a successful model, as within a week of Rockies 2010, they announced that the event was renewed for Rockies 20112.  We got a room up at Copper Mountain for Friday and Saturday night, which included a free pair of tickets to the post-race Reverend Horton Heat concert, and a private, heated shower for after the race.  As opposed to the "Warrior Wash" – a series of PVC pipes with holes in it, spitting cold water on a bridge over a wading pool.
In order to avoid absolute chaos, the Warrior Dash is separated in to  a series of waves of 350 runners every half hour.  Each wave kicks off from a relatively narrow starting corral through a starting line truss that spits fireballs in to the air with the starting gun.
The focal point of the Warrior Dash is the series of obstacles spread across the 5k-ish course.  And maybe the warrior costumes and post-race beer sponsored by Pyramid Brewery.  We start off with a short, paved, downhill sprint to the first obstacle; two pairs of wrecked cars (with all glass removed) parked bumper to bumper, requiring a simple scramble over them.  Next up, the start of an uphill climb to a 15 foot-ish pyramid of hay bales to climb over,   From there, a little more uphill before a steep segment of hill with a rope assist.  Obstacle four was a tire strut on a flat segment – not quite laid out as a high school football team might be expected to attack, but a reasonable obstacle for the "all comers" scope of the event.
Obstacle five may or may not have been the 500 feet elevation gain over the next mile through a series of switchbacks up the ski slope3.  After reaching the crest and a short bit downhill on a more established trail, we hit obstacle six – the mud pit – five or six lengths of barbed wire stretched a couple of feet above a pit of mud requiring at least a modicum of mudcrawling, depending on your personal approach to such an obstacle.
The mud pit was followed by a sewer pipe tunnel crawl, then series of hip-height "hurdles," which, given the fact that we were all covered in mud and pretty worn out weren't all that Lolo-espe, then a short cargo net climb and a plank walk before a shallow creek crossing and the final, eleventh obstacle, a pair of fire crossings about twenty yards from the finish line back in the center of Copper Mountain's commercial district.
The best way to describe the Warrior Dash is simply awesome.  We weren't sure what to expect of an obstacle course race.  It's the first one we've one and a fairly corporate one at that.  But frankly, despite my general opposition to "chain" races like this, I've got to give Red Frog some awesome props for a superbly executed event.  From the check-in to the starting line to the race itself, we were incredibly impressed with the execution of the whole thing.  We never felt genericized or forgotten; the staff never appeared overwhelmed, and nobody ever appeared to be in danger.
The 80s cover bands playing the main stage throughout the event was an awesome addition.  While the early morning waves may not have had this perk, a majority of us were able to gauge our proximity to the finish by when the opening riffs to Sweet Child O Mine4 were audible for the first time.
Post race, when the cover bands wrapped up, the start line and finish line MCs converged on one stage to handle the costume and beard contests.  If I had to criticize anything about the event, it was how this was handled.  C and I certainly didn't prepare well enough to be contenders in either event, but if we did I'd be pissed5.  "Finalists" were selected by a combination of random pointing and "cheer for your favorite" for people who weren't visible to more than the first few rows of spectators.  While the eventual winners were certainly the best of those invited on stage, there were tons of people who put a lot of effort in to ridiculous costumes6 who didn't get any acknowledgment whatsoever.
But How'd You Do?
I thought I was pretty hard core coming in to this thing.  I'd been running in Golden (elevation 6000 feet) for a few weeks now and thought I'd gotten the whole running at elevation thing under my belt.  But an extra 3000 feet still affects things.
I didn't get too aggressive in the starting corral, having observed prior waves7 start and get pretty spread out before the half mile mark.  Being a "fun" race there were plenty of people who don't race regularly and have no idea how to find their place in a start corral, nor did the organizers make any effort to stage people – even if you know your average 5k finish time, that's pretty moot in this environment.
In the starting sprint, I just stayed to the side as things widened out and passed a couple of dozen people before the cars.  Then, in possibly my favorite moment of the whole event, while everyone was bottlenecking over the touched bumpers between the cars, I stayed to the side and leapt over the trunk of the first car and hood of the second car.  I overheard a spectator chastise the masses with something along the lines of "Oh, he just passed all of all y'all's asses!" as I cleared the second pair of cars.  I gained at least 20-25 positions in that first obstacle.
As soon as we cleared the tire obstacle and started on the switchbacks proper I felt the elevation like I'd just flown in from sea level.  My original fear was that all the water I drank to avoid dehydration would cause stomach cramps, but when I hit that point suddenly everything slapped me in the face; my mouth was dry and I was winded more than my very first 5k.  I held my position as best I could, pacing the guys in front of me for most of the climb, grateful for every walk break they took.
Eventually, I realized that I was holding back too much and passed them, gaining a handful of positions before the crest of the hill.  The only two people who caught me on the uphill were a Marine with a Semper Fi tattoo on the back of his leg and a guy with a emergency rescue squad t-shirt that I'd passed on the uphill and didn't catch back up until just after the crest.  On the downhill I hung with the two of them pretty close, but eventually the rescue squad guy pulled away and it was just the Marine and I.  I suppose there are millions of less glamorous competitors to be neck-and-neck with.
As we neared the mud pit, a spectator's dog finally wiggled loose of it's leash, so my Marine friend and I had a canine companion through the mud pit and following obstacles, much the the gleeful amusement of spectators.  I slipped a bit on the way out of the mud pit, but managed to catch my Marine friend somewhere between the plank (where our dog escort turned back) and the creek.  I'm not sure exactly where I placed in my wave, but we were told by finish line staff that we were top twenty, which was pretty cool.
27:43.25
My final time, according to the official results.  My Garmin read 27:49.188, so I'm not complaining.  When all came out in the results, my time was good for 80th place overall for Saturday9, the 73rd guy, and the 12th in my age group.  As appealing as the overall awards were – yeah, a full-on metal Viking helmet! – the guys who pulled that off were solidly in the 25 to 26 minute range.  Pushing a little harder on the downhill and making up 15 – 20 seconds would have gotten me in to the top ten, but, well, that's part of why they keep the specifics of the obstacles a secret until race day.
(Yeah, you can click on these awesome photos and get a bigger one.)
All in all, an awesome day, a great change from the routine of standard road races, and a race I'd certainly do again.  In fact, I've already registered for 2011, despite having no clue where in the world I'll be come August 2011.  We've also registered for the Tough Mudder Tri-State this November, which is a similar event put on by a different company, but four times the distance.  Want to join us?  Pop me on Facebook or Twitter and join our Teenagers From Mars team.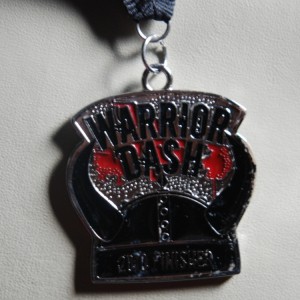 The other two being the Great Urban Race series and Beach-Palooza. ↩
Yes, I've already registered.  I'm that big a dork. ↩
Or mountain bike trail, if you prefer… ↩
Okay, not literally, but it was certainly something similar to G'n'R.  Back off Total Recall police. ↩
Not as pissed as the last time we attended a Hillbilly Pirate Ball, but pretty pissed. ↩
…and ran the obstacle course in costume! ↩
We started at 3:30 pm ↩
Yeah, I wore a GPS on an obstacle course through a mud pit.  I wouldn't recommend it, but if you're interested, I've got an excellent methodology including saran wrap and a comfort level with audio indicators only. ↩
Saturday and Sunday are treated as separate events, though all waves on a given day are treated as one. ↩