Crass Consumerism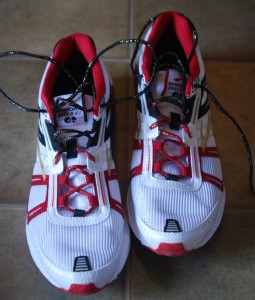 In case you missed it, I live in an RV.  It's 34 feet long and has lots of storage for an RV, but significantly less storage than, say, your tiny Brooklyn apartment.  Certainly less than your Arizona suburban McMansion.  So my wife and I don't really buy much "stuff" – and when we do we try to replace existing stuff rather than just adding new stuff.  Compared to the average population, we are probably far less consumerist than most, but certainly not as enlightened and "no-need-for-earthly-things" as we'd like to think we are.
We also hate crowds and pushy sales people.  And by pushy I mean sales people just trying to do their job and see if we need anything.  Amazon is our friend.
The point?  We don't go shopping often.  Certainly not multiple stores in one day.  But when we do, it's usually for a product that we've talked about buying for ages and are going around in circles trying to figure out what we need.  Eventually, reality sets in and we realize that we need to go to a store and actually touch, poke, prod, wear, shake, or otherwise manhandle the product options in question.
Which is what we did yesterday.  A noble quest for racing flats, come to it's inevitable conclusion a mere eight months since we started talking about it.
Duluth has an awesome running community, which supports lots of races all over the North Shore all year round (i.e. not just Grandma's Marathon).  And they're lucky enough to have two pretty good local, independent running specialty stores; Austin-Jarrow Sports 1 and Duluth Running Company.  We started at Austin-Jarrow, so we could enter the Brooks Ghost 3 promotion.  Ceridwen fell in love with the Saucony Grid Type A4 right away, tried a few others, and we bought the A4s.  I tried the Brooks Green Silence, which I went in thinking I'd love, the Men's Grid Type A4, a few other Sauconys, and even a cross country spike shoe, but wasn't convinced yet.  At Duluth Running Company, they had many more options, plus they had Dillon, who runs for University of Minnesota at Duluth and is willing to tolerate (and intelligently answer!) my questions.
I tried on about a dozen different shoes, mixing and matching and putting about a mile on their treadmill, and finally settled on the Brooks Racer ST4.  It's not the lightest race flat I tried on, nor the flattest, but they were the most "right" feel and are about 90 grams lighter than my Adrenaline GTS trainers (that I've been running in exclusively since I got rid of the $12 Reeboks I picked up in 2006).  I went in thinking that a racing flat should feel like a track spike, but without the spikes.  Once I let go of that notion, I wasn't sure what I wanted, just that I wanted something lighter for races and hard track workouts.  It took a while, and I'm wicked grateful for DRC's friendly and patient employees, but I got there.  So, as much as I hate brand loyalty as a consumer concept, Brooks wins again!
In short, new shoes!
Oh, and a little bonus; they have a camera set up by the treadmill to do a gait analysis; something I've wanted to do but never had the patience to wait in line to do at an expo.  The girl who helped me pick out my shoes in Vermont three years ago did so my examining the wear patterns on my flip flops, but the camera showed that I'm actually a very neutral runner.  Maybe I've learned how to run flatter?  Maybe my flip flops weren't the most scientific indicator?  Who knows, but at some point I suppose I ought to try out some neutral trainers to possibly replace the Adrenalines.  But I'm a little scared to try something new when this has "worked" for so long.  We shall see!
5k Friday
So yesterday, the woman2 who blogs at Weight In Vain decided that she wanted to start something called "5k Fridays" to try and see how fast she can do a 5k, something she hasn't done since starting running longer distances.  I've been thinking the same thing to a degree – I want to focus more on shorter distances and getting a baseline time is a good place to start.  I don't know if I'll do this every Friday – after all, expecting to see measurable change within a week might just get frustrating, but I'll be participating at least once a month, if not more.
So, here we go, week one, in the aforementioned fancy new shoes (now at a total road mileage of 4.1), along Scenic Route 61 on the North Shore of Lake Superior in Knife River, Minnesota.
19:34.72
As good a starting point as any.  Not quite my PR, but faster than the Solstice run I did a couple of weeks ago.  I was actually pretty impressed by my splits; an even 6:20 on miles 1 and 2, then 6:14 on mile 3 and 0:39 for the final stretch.  Less impressive, but certainly interesting, is my heartrate for this run.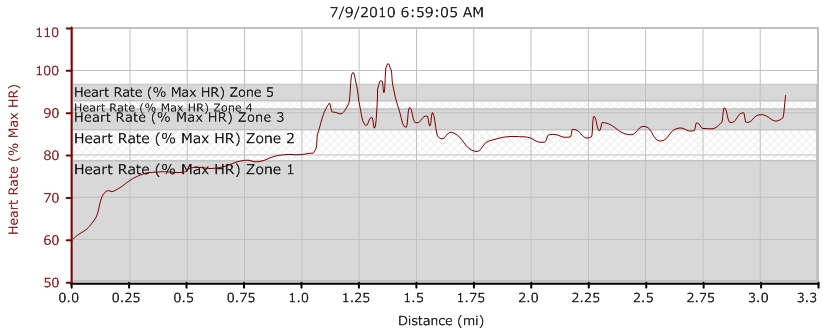 When I initially set up my heart rate zones in Garmin Training Center last week, I was worried that using 204 as my max might have been a mistake.  That's literally the maximum heart rate that the monitor picked up in any workout since I've started using it.  It seemed like getting in to Zone 4 would be an impossible task.  And yet, today, running a route I've run dozens of times3, I not only hit Zone 4, but blast right through Zone 5.  And then exceed 100% for a moment.  God I love science.
If you haven't read Weight In Vain before, check it out.  And feel free to join in on the 5k Friday fun!
Which doesn't include the word "Sports" in their logo or advertising – I honestly thought they were a law firm for the first several weeks we were here.  Granted, I was pretty impressed that a law firm was so involved in the running community, sponsoring races and the like, but the truth makes more sense. ↩
I just realized I don't know your name!  You so secretive! ↩
Granted, at a faster pace than previously… ↩