If a guy gets beaten by a woman who doesn't pass him but simply can't be caught, did he still get "chicked"?
The Race
The Knife River Solstice Run is put on as a fundraiser for the Knife River Rec Center and has a huge amount of support for such a small race in a small town.  This is how a local race should be run.  The course is accurate, they've got enough staff to handle the field, they involve walkers and kids in integrated events instead of tacking them on as an afterthought, there's no swag bag full of fliers and junk you don't need, there's recycling bins for plastic and compost bins for banana peels, they control the chute to keep finishers in order, they enforce USATF racewalking rules1, everyone's upbeat and friendly, people actually cheer for every finisher, there's door prizes donated by local businesses but they don't drag out the distribution for hours, they scale age groups and prizes to the size of the field, and they have fun, unique prizes instead of cheap generic medals or trophies.  (How's that for a sentence?)
I really liked everything about it.  The course was awesome.  Hilly, but awesome.  It was an out and back course that wraps around the residential area of Knife River.  After a short flat straightaway, there's a short length of single-track trail (full of fun mud puddles) climbing uphill to a park near the expressway.  From there we have a short rolling series of hills before a drop back down to the starting elevation, a left turn to a bit more than a quarter mile climb of 120 feet, and then a descent over that 120 feet of elevation until the turnaround point.  And then we do it all in reverse.  Really nice, challenging course and a nice way to explore the back roads of Knife River, such as they are.
Before the 5k, there was a 2 mile race-walk along the same course, but, obviously, turning around at the mile mark.  Prizes were given for race-walk winners as well as the 5k winners.  Since it was a relatively small field (maybe 150 total between runners and walkers), they used ten year age categories up to 59, plus an "over 60" group, and only gave awards for the top in each group represented.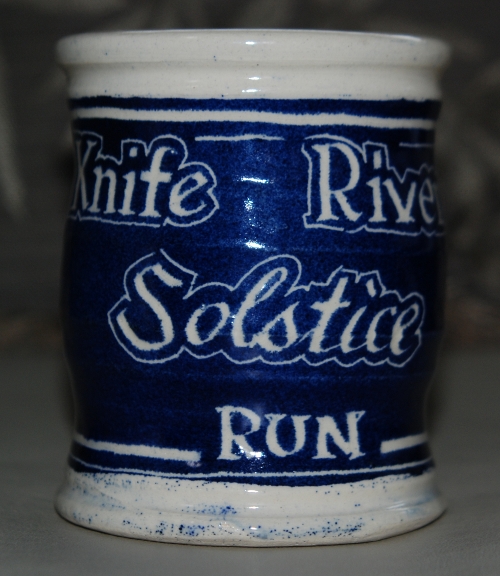 The awards, however, were awesome locally made pottery; mugs for age group winners and plates for the overall male and female finishers.  Plus a bunch of locally donated door prizes given out at random after the awards2.  All in all, a fun run, a good crowd, and awesome community support.
Oh, and to top it off, there was a Rec Center worker taking race photos which she's going to post to Picasa for everyone to enjoy.  For free.  Take note, race directors, on another reason why not to hire MarathonFoto, BrightRoom, or other such overpriced mediocrity.
I think one of the court marshals was also babysitting for a runner.  Or maybe they're a couple. Kind of unclear to those of us who are the interlopers to this community and didn't already know everybody.  But it's Minnesota, so everyone is wicked friendly and welcoming anyway!
Wait, Where is Knife River?
Knife River is on the North Shore of Lake Superior, about 13 miles northeast of Duluth, MN.  If you've ever run Grandma's Marathon, Knife river is the first community you go through, from about mile 2 until mile 9 or so.  It's got a population of about 2000, but being along the Scenic Drive it gets a lot of tourist traffic3, and thus it is home to a few tasty restaurants, hotels and resorts, a trendy coffee shop, an awesome chocolate shop, and assorted other miscellany we haven't discovered yet.  It's also got a nice pebble beach in a fairly protected harbor next to a marina operated by the Minnesota Department of Natural Resources.
Apparently, the first known total-loss American shipwreck on Lake Superior occurred at the mouth of the Knife River.  The town itself was initially established as a copper mining town, but the quality of the ore in this area was poor, so they turned to logging, then eventually to commercial fishing.  And now you can buy yarn, fudge, and corn to feed to animals in a petting zoo, all within ten miles of one another.  Go figure.
My Race
Actually, before my rambling, a quick word on my significant other.  Last night at midnight (okay, actually this morning at midnight), Ceridwen ran the Midnight Sun Midnight Run 5k on the waterfront in downtown Duluth.  She wrote a guest entry this morning as a race report.  She ran this Solstice Run as well.  On about two hours' sleep due to some post-race restlessness and early morning bikers revving up for their morning ride.  However, she managed to finish not too far off from her time last night.  Yup, two 5ks within nine hours of one another on 2 hours' sleep.  Both at times she' hasn't been able to hit in over a year.  I'm so wicked proud of her it's a little nauseating.
Go, girl, go!
At the same time that the bikers were waking my lovely wife, I was mozying over to register.  One of the organizers was pinning past years' results to the wall.  I took a look and was cautiously optimistic about what I saw.  There were maybe three to four high school or college kids each year coming in sub-19, plus Kathleen Monaghan, a surgeon from Duluth, that's apparently a local superstar.  She's 42 and came in third last week at the William A. Irvin 5k that's attached to Grandma's.  She also routinely finished just behind people who have reached the Olympic trials.
In other words, unless there was an influx of track kids, I had a fairly good chance of placing, certainly of placing in my age group.
When we started out, I quickly found myself running along side a woman who I could only assume was Kathleen.  The pace was comfortable, but knowing her finishing times I didn't want to stay there too long.  I hung in a pace behind her and when we reached the trail portion, I slowed up just enough for another guy who was right on my tail to pop in between us.  I kept up a pretty respectable tail on the two of them through the 75 foot climb single track, but they were pulling ahead.  When we leveled out, the two of them stuck together as their lead on me grew.
By the time I passed the first mile mark – at 6:03 by my watch – I was really feeling last week's marathon.  And that's the point of the long, slow 120 foot climb.  I certainly lost ground on the way up, where the course marshal congratulated me on making it up the hill and pointed out that it was downhill from there.  (To the turnaround, of course, meaning I had to get back uphill to him.)  Although I thought I had a strong hold on third, I took a glance back on the turn and saw that the fourth place runner was closer to me than I was to Kathleen and her shadow.
I pushed to make up some ground on the downhill, only to lose it again on the way back up the hill.  I think fourth-place-guy passed me on the way up the hill, but I tried my darndest to hang on to him.  He was just a few paces ahead at the two mile mark – a slower, 6:49 split – but grew that to maybe ten to fifteen paces by the time we hit the singletrack again.
We came out of the woods and on to the final stretch – hitting mile three in a 6:27 split – where the wind that was at my back for the starting gun was now in my face.  I picked it up a bit at the end but didn't have much left.  I couldn't catch him, but I was damned if I was going to let the clock flip over to 20 minutes.
Final time: 19:48 by my watch – they haven't posted results yet, but I think that's within a second of the official clock and about 18 seconds behind third place.  However, third place was only 17, second place was over 40, and first place was Kathleen.  So I was the third male finisher and first for 30-39.  Which is good enough for a mug!  Nothing beats pottery rewards!  And frankly, I'm pretty impressed with my pace for such a hilly course and only one week post-marathon4.  It'll be interesting to see what I can do if I focus on 5k work for the SkirtChaser in Denver.
After the race, second place guy (I really need them to post results so I can put his name in here!) pointed out that we got chicked.  My wife loves this term, especially when she chicks people while wearing a skirt or dress, triply so when they make comments to their friends about not wanting to be behind the girl in the dress.  But neither of us were ever ahead of Kathleen.  I was at her side for a few moments, and he held a pretty close shadow for more than two miles, but she never passed us.  It was her race from the gun.
So did we get chicked?  I vote no.  We just lost to an awesome runner who happens to be female5.