Guest post by Ceridwen, aka The Wife
Due to our radically different running interests and times, I usually end up cheering Keath on at the end of a longer distance after I've finished up a shorter one. Last week we decided that I would run this midnight run on my own, with support from my wonderful husband. So the hunt was on for glow stick accessories (the dollar store – go now while they're stocked up for 4th of July.)  I changed into my gear in the car while driving from a shopping extravaganza to the race and arrayed myself with my glow sticks.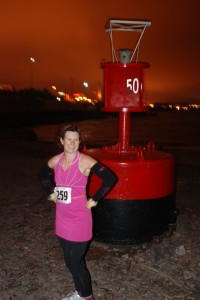 After a photo shoot, I got myself wedged into the chute for the race. One of the great things about this race was that even though it was small, they had signs to indicate where you should line up for various paces. They only went up to 8 minute miles, so I positioned myself in front of people that looked like walkers and some 20 something guys that may have been drunk. Drunk or not, after 100 meters they left me in the dust. Ah, to be 20 again.
We headed out right on time (I think) and I felt good running, so I ran a little faster. Since the race was on the lakewalk, there wasn't much room for passing, so I was occasionally sprinting up on to grass embankments to get around people. I realized later that doing that was very helpful – I got to recruit my much stronger fast twitch muscles, giving my sad, paltry little slow twitches a rest. I got to see the leaders twice, as it was an out and back/out and back course. I love watching fast, easy runners.
By the time I got to the 2ish mark, I was feeling the exertion, but I just decided to not let it bother me and still run hard. It was great on the way back because I could see the finish line across the lake and knew how little was left. Right at the end, I felt someone at my shoulder. Even though it was a touch earlier than I would normally start my kick, I was damned if I'd let her pass me, so I pushed a bit and she didn't stay with me, so I kept going. Then I was going downhill and going pretty damn fast, if I do say so myself. I passed a few women I'd been trying to keep in my line of sight and suddenly came up to two people I hadn't seen. I was going so fast I had only two choices: veer around them and beat them to the finish line, or barrel into them and send us all hurtling over the finish line in a tangle of limbs. I chose the former and I crossed the finish line in a flying leap, which probably felt cooler than it looked.
This race was fantastic. I loved the course out on the lakewalk, which was really well lit and I loved the easygoing feel of it. The volunteers were all fabulous, as was the food. Who doesn't want donuts at 12:30 am?
Oh, and my results? Well, keep in mind that Keath is waaaaay faster than me. I finished in 30:37, which is a 9:52 pace. I haven't done that in over a year, so I was super, super excited and it wasn't all because I got to wear enough glow sticks to host my own rave.