The Race Itself
Grandma's is one well run race.  It's a beautiful course, a smooth rolling route with no killer hills, full of awesome volunteers, and lined with incredible spectators!  Yeah, the expo was pretty blah and I wasn't exactly thrilled with the shuttle driver (could've just been my guy's attitude), but the race itself was wicked awesome.  I pretty much recommend it to anyone – even if you don't run, come cheer, drink, and hang out.
The first 19 miles of Grandma's Marathon is run on Scenic Drive along the North Shore of Lake Superior.  As you might surmise from the name of the road, there's tons of views over the lake.  It was a beautifully clear morning, so there were boats out on the river and miles of clear views.  At the end of the scenic drive we swing up on in to town, first along a residential neighborhood where many college students live, then in to downtown proper where the race goes along brick-paved Superior Street, and loops back around to finish in Canal Park near Grandma's Saloon & Grill.
Along the scenic route there are water stations every two miles (starting at mile 3) and I didn't expect to see many people outside of those volunteers.  Boy was I wrong.  Aside from people just hanging out on their front yard, there were crowds near every cross street where people could sneak down from the expressway, plus several groups of people who'd hop on their bikes or brave the expressway in a car to pop out over and over again, presumably following a friend or family member in the race.  (My favorite was a guy wearing an  umbrella hat who was cheering on his son, but stuck around for at least a while after his son passed, encouraging the rest of us and asking us to keep an eye on his son.)
In addition to the obscenely enthusiastic spectators, a few of them were in costume.  Highlights; a small army of people in Elvis costumes dancing to what I can only assume was an all-Elvis playlist, three guys in Victorian drag who kept popping up along the racecourse, and a man in a chicken suit on a trampoline just behind a sign that said something along the lines of "dance for candy runners!" as he danced to the Chicken Dance.
Favorite sign: "RANDOM STRANGER I AM SO PROUD OF YOU!"
When we hit mile 19 the water stops started being every mile and the spectator swarm in between them became non-stop.  People bring their lawn chairs, kitchen furniture, and/or living room couches out to the course to cheer people on.  And perhaps offer them a drink.  Not just beer, mind you.  That's so cliche and Philadelphia1.  Duluthians offer up margaritas, rum & coke, and mysteriously unidentified "shots."  Not to mention all the home-made water, fruit, and candy stations.
Mad props to the dozen or so folks to run their garden hose out to a street-side ladder and strap a sprinkler of to the top for runners to cool down under.  Especially the guy near downtown that apparently rigged up a permanent double spray rig complete with it's own shut-off valve.  Yeah, I was pretty jealous of the rig.
The volunteers at every water stop were awesome.  And there were tons of them.  Some water stops did themes or costumes, but they were all quick, spread out, and did an awesome job.  It took six or seven miles for the field to spread out to a reasonable rate, but the volunteers at the even the first few stops were able to keep up with both the dehydrated runners and ridiculous levels of enthusiasm.
The finish line area was a bit chaotic; the food and friend meetup was on one side of the corral while the gear check pickup and post-race party was on the other side, requiring multiple crossings of the corral.  To top it off, getting back to the shuttle busses required crossing the runners still on the course in their last half mile.  There's got to be a better layout.  But that's about my only gripe.  Aside from the bus driver lying to me and the fact that it took twenty minutes to get outside of Duluth.
Bittersweet Irony
So if you've been following my recent folly of three marathons too close to one another, you're aware that when I ran the Sunburst Marathon in South Bend I realized it was an evil humid day and shooting for a PR was Not a Good Idea.  I slowed up and just ran without worrying about pace with the intent of not burning myself out so I could push hard at Grandma's.  In the intervening weeks I decided not to shoot quite so high and target a 3:20 instead of 3:10, starting slow and picking up on miles 5-20 to hopefully finish strong.
Short version: I finished Sunburst more than 15 minutes faster than Grandma's.  And while Sunburst felt like a nice easy run, I felt like I fought for every mile of Grandma's.  My second slowest marathon ever.  Even slower (albiet by a minute) than the New Hampshire Marathon I did just a few days after getting over swine flu last fall.
To be lengthier, I started off strong and on pace.  I ran the first five miles nice and slow, hanging pretty close to a 7:50 average – a little fast according to plan, but far better than starting out at 6:50 when targeting a 7:15 even pace.  After mile five is where I was supposed to pick it up to 7:33 miles.  I never quite hit that target, but I was still holding pretty solid to finish 3:30 or shortly thereafter.  The highlight of the race was mile 5.4 where the Best Spectator Ever2 took this photo of me.  And it went downhill from there.  Net downhill.  Ba-dum-ching.
Around mile 9 I started slowing up a little each mile.  Nothing in particular hurt and I wasn't exhausted or anything like that.  I just couldn't keep it going.  And to top it off, around mile 15 I apparently developed a hell blister on the middle toe on my left foot that caused agonizing pain every other step.  The walk breaks got a little ridiculous at that point, but I managed to resist the urge to give up at any of the three drop out points and am glad I did.
Somewhere in the last 10k, as the downtown crowds got louder, drunker, and more excited, the blister apparently popped and I was able to trudge on without the pain.  A woman in a lawn chair even yelled at me to remind me it was fun.  Just what I needed at the moment.  In fact, a lot of spectators are really good at connecting with individual runners and telling us exactly what we need, especially when we're not doing too hot.  It was like having thousands of close friends helping to coach you along.  I think it weren't for them and my wife's encouraging text messages I probably would have given in to the urge to curl up in a shrub and cry.  Yes – it sucked that much.  For a few miles I actually hated running today.  I've never hated running before3.
At the finish line I was chatting with some people I was running with some folks from DailyMile that I'd met the night before and was reminded that I still finished and sometimes that's all that matters.  I also realized later, when I was reviewing the results, that even though I missed my personal goals, I'm "settling" for a time that's still in the top 50% of the age group, gender, and overall field4.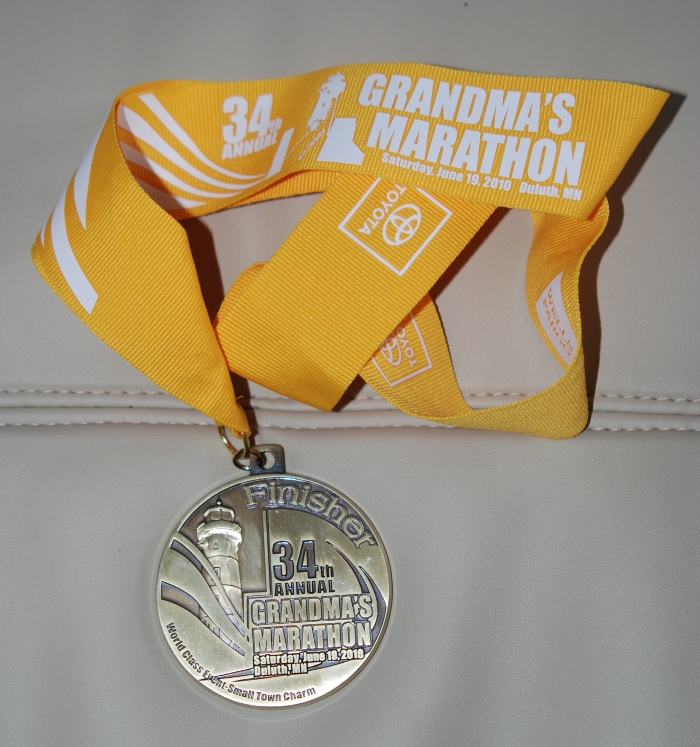 But there's still a short list of things that should be self evident to normal people but I had to learn the hard way:
Five weeks is not enough time to train to any significant performance improvement.
Forgetting to eat anything for nine miles is dumb.
I probably need more sleep.  In general, and particularly the week of a race.
My final chip time was 4:03:47, 1949th overall (out of 5597 finishers), the 1484th guy (of 3456), and 607th in the open (19-34) age group (of 1344).  I'm glad I did it, but I think me and the marathon need a trial separation.  We'll keep in touch, but also see other race distances; I think I'm good for 2010.